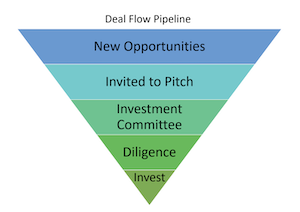 Every early stage investor knows that deal flow is a critical component of driving successful returns. Without a flow of potential deals, you cannot invest, and without good deal flow management, you may miss important investment opportunities. We're offering up a perspective on the benefits of using professional tools to simplify your pipeline management, enabling you to spend more time on value-creating activities. 
Why Do I Need to Manage My Deal Flow?
As an investor in startups, sourcing deals can be exhilarating. It is fascinating to learn about new ideas, but it can be exhausting to seek out innovative companies that meet your investment criteria and sift through those that do not. You need to look at a lot of startups and speak with many entrepreneurs before you find just one in which to invest (in the neighborhood of 100 companies looked at for every one or two you invest in). How do you keep all those details organized? How do you keep track of the ones you'd like to revisit? How do you analyze patterns over time? How do you ensure nothing slips through the cracks?
And once you start building out your portfolio, not only do you need to keep track of sourcing and evaluating deals, but you also need to take into consideration the composition of your existing portfolio. You'll want to ensure that the deals you bring in contribute to the diversification of your portfolio across industry, stage, CEO experience level, and breakdown of the management team from a gender, race and ethnicity standpoint. It can quickly become complex to manage all the details in order to optimize returns, whether your goal is financial gain, positive impact or both. 
Managing deal flow doesn't have to be messy. For funds and investment groups with a high volume of leads, being responsive to entrepreneurs, coordinating among the deal team, and keeping track of notes, files, pitch dates and next steps is time-consuming and often chaotic. Then there's due diligence, meetings, and decisions to be made along the way, until finally you have enough information to make a choice to invest or pass. Trying to manage that kind of a process without the right resources can lead to dropped balls, entrepreneurs left in the dark, and missed deals. Tools are clearly needed. 
Benefits of Deal Flow Management Tools
Managing your pipeline of investment opportunities through an organized process can be greatly beneficial when you have a high volume of deals to keep track of. And centralization is particularly useful to keep everyone informed when you have a team of individuals involved. Following are the key benefits of using a pipeline management system.
Active deal flow management is a critical step for investors to efficiently evaluate opportunities and turn leads into investments. By using pipeline management tools, teams can easily access information, collaborate and follow an established process to evaluate opportunities and make informed investment decisions. 
Recognizing the need for early stage investors to manage their pipeline of investments, we, at Seraf, developed a fully customizable deal flow management tool to efficiently track, evaluate and analyze your pipeline of investment opportunities through the different stages of your deal flow process. It nicely integrates with our portfolio management platform so investors can have one place for all their investment activities. To learn more about Seraf's deal flow management and portfolio management for early stage investors, please check out our Enterprise Solution and request a demo.
Want to learn more about deal flow management? Be sure to check out the 9 Key Elements of Deal Flow Management Software.