Note: This article is the eighth in a series of interviews highlighting the work of interesting fund investors.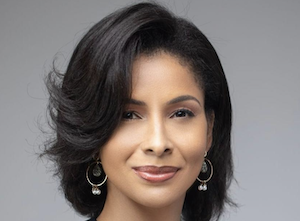 Ashim Egunjobi is the Managing Partner of Octerra Capital, a venture capital fund with a mission to transform Africa by investing in visionaries that are challenging the status-quo and helping to build the Africa of tomorrow. Ashim is an investment professional and global leader with over fifteen years professional experience in the financial services and technology industry. She has worked in tech, banking and finance, leading multinational teams and organizations across Africa, Germany, the Middle East and Asia, giving her a global perspective and local insight into the opportunities and risks organizations face in today's quickly moving world. She is a strong advocate for equal opportunities and building a more diverse workforce, having championed the cause through her work in large banks as well as founding organizations which support women at the local level in Africa.
Ashim, thank you for participating. When was the Octerra fund established, and is this the first fund you have managed? 
Octerra Fund I was established in mid-2021 as a sector-agnostic fund focused on technology-enabled, scalable solutions across the African continent. Our ambition is to invest up to $10M in game-changing African Founders and tech-enabled startups within the ecosystem. This is our first fund and we are really excited about the portfolio we have built so far. 
What is the thesis of The Octerra Fund? Do you focus on any particular type of founder, company or industry? Are there particular types of startup companies you steer away from? 
Octerra's Fund I is a founder-first fund. We invest in founders with audacious ideas, ideas that we believe will significantly impact the African continent and the prosperity of its people. We see opportunities in this challenging environment and like to be active invested investors. Our partnership transcends our monetary investment, we support our founders in the development of their strategic and operational road maps, ensure that they attract and retain the best talent, support network building and regional expansion as well as regulatory engagement.
Tell me a little bit about your fund size, stages you focus on, and your typical check sizes when investing in early stage companies? 
We invest primarily in early stage companies; pre-seed to Series A. With that, our check sizes typically range from $150k to about $500k. These commitments can grow up to $1M including bridges and follow-ons in future rounds.
What would you say are the main things that differentiate you from other similarly-sized VC funds?
Our hope is that similarly sized VCs with similar ambitions that are focused on creating prosperity on the African continent do not differ from us. We invest simply because we believe that in order to change the narrative on the continent, to ensure that all Africans can reach their full potential, we must build an eco-system of entrepreneurs and early stage startups to drive employment, active income and productivity across the African countries. We understand what it means to start and scale companies first hand, and use these experiences to support and guide wherever we can. Most importantly, we know that we don't know it all, and love learning about new ideas, technologies and ways of thinking.
Tell me a bit about yourself; what makes you good at what you do? Is there a particular experience or set of experiences in your personal history that you feel especially helped prepare you to be an investor?
I like to say that I have built somewhat of a portfolio career. I started my career in Germany working for a tech startup and later moved into the financial services industry in Nigeria. I was fortunate to travel across Africa with Standard Chartered Bank and later in the private equity space, working with a real estate PE fund out of Mauritius. Surprisingly for many, I then decided to join a tech company scaling into Nigeria. All these experiences have framed and enabled me to have a unique set of experiences, from the start up and scale up side, as well as from an investor side. This gives me unique insights into both sides of the coin.
Would you consider your fund an especially "active" or "value-added" investor?
Yes, absolutely. As mentioned previously, we see ourselves as invested investors. We understand that there is no cookie-cutter approach for investing or portfolio management and spend time understanding each opportunity and investment we do. We listen to our founders' challenges and look to help with their asks. We do a lot of research about the sector, the competitive landscape, the technology and dig deep into each portfolio company itself. We proactively share our findings, comments and thoughts and provide strategic feedback.
Do you think your gender influences how you approach investing? If so, can you tell us a bit about how?
I believe as humans, our decisions are generally influenced by our experiences, our background and upbringing as well as our mindset and exposure. 
I started my career working for a tech startup in Germany and then moved into the Finance and PE space working across Africa. Working in male dominated fields (sometimes being the only woman in the room) often made me wonder where my female counterparts were, why we were so few, and how to create more equitable workplaces in order to ensure real diversity and inclusion. 
So yes, being a woman, one working in finance and tech in Africa has certainly framed my way of approaching investments. I look out for diversity (or the lack thereof) in new investments as well as our portfolio of companies. The question of impact (how, why, who) is always at the forefront of what we do.
Are there some portfolio companies you are especially proud to be working with or simply would like to highlight?
We are very proud to be working with all our portfolio companies and continue to be excited about what they are building. To highlight a few, there is Lifebank – a health tech that looks to bridge the gap in making life savings consumables such as blood and oxygen safe and accessible to more Africans. There is also Knabu, building a clearing bank with a vision to make foreign currency transactions cheaper and more accessible to fintechs and banks on the African continent. We are equally excited about Edves, an edtech building the future of education for Africans through their interactive platform linking students to schools anywhere.
If you could give entrepreneurs one piece of advice about working with you and your fund, what would it be?
Proactive communication is key; both during the fundraising process as well as once you have investors onboard. It builds trust and buy-in, both key to a successful partnership. We view every investment we make as the beginning of a partnership. Communication is key. We are here to see you succeed, to see you create the biggest impact imaginable and to do it all while having fun.
What are the top three qualities you look for in a founder?
1. Grit and Tenacity 2. Honesty and Humility 3. Vision with Execution Power.
Stay tuned for additional interviews as The Seraf Compass continues to profile interesting small funds, impact investors, women investors and family offices.