Note: This article is the first in a series of interviews highlighting the work of interesting impact investors.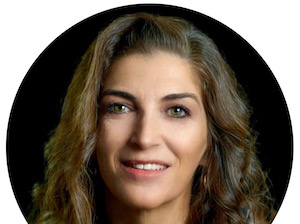 Naava Mashiah is a Geneva Switzerland based wealth manager and business development consultant focused on impact investments in the Middle East. She is the CEO of ME Links.
Naava, thank you for participating. How long have you been an impact investor and how did you get started? Looking ahead in early stage investing, what are you most excited about? 
I had been educating myself about the sustainable economy before I became the YPO impact officer for Europe about 4 years ago. I felt I needed to have the tools to continue to transfer knowledge about ESG and sustainable investing to my YPO peers. Post Covid, I have pivoted my full time attention and only present sustainable ESG compliant investment opportunities to my clients. I have become a full-fledged industry expert in impact, particularly in new proteins.
Do you have a thesis or focus on any particular type of founder, company or industry? 
I feel most comfortable working with the dynamic Israeli economy. I realize there are great opportunities to be found in this ecosystem and am familiar with the culture/language. I also have great personal connections there.
How did you prioritize which ESG issues you were going to focus on?
It came naturally when people I respected around me all began working on alternative proteins. For example, I knew YPO members and former colleagues with such diverse backgrounds as manufacturing and banking who transitioned their career to focus on alternative proteins, and I met many accomplished new people via LinkedIn or via recommendations after I initiated a New Protein forum.
How do you measure the impact of your investing and the portfolio companies you work with? Do you use company-specific and/or portfolio-wide KPIs?
We do not use any particular set of standardized ESG metrics yet. We use portfolio companies' financial metrics. Regretfully, start ups still consider ESG metrics a luxury. As I observe the industry and speak to accelerators and other start-up focused organizations, I believe this is about to change and we will see broader adoption of ESG metrics.
Do you expect market rate returns, or are you willing to accept concessionary returns for especially worthy companies?
I expect higher than market rate returns since new proteins is an attractive market with a very high scale of growth. Much faster than high tech, for example. The technologies which are scalable are truly applied globally. 
Do you do straight equity investments only, or do you utilize other early stage deal structures such as lending, revenue-based financing or grant-making?
In the past we raised capital directly from ultra-high-net-worth individuals and angel investors to invest directly in the companies. However, we recognize now that there is a need to establish a fund to wrap a list of companies and give more accessibility to investors. We are currently in the process of establishing the Milk and Honey Fund to cater to future investors from abroad who do not know our market closely enough.
Where does your best deal flow come from, and do you ever feel frustrated or limited in terms of deal flow by having a specific impact focus?
We have an expert on the ground who has been delving into this topic for over 7 years which makes him a veteran in this relatively new space. Most of the start-ups come to him for guidance so he has first-hand knowledge of the best deals in the field and can make introductions to us. The segment is very competitive and financing rounds get snatched up and filled rapidly. 
What would you say makes you good at what you do?
I know how to put people together. I realize which attributes of one person will complement the other and introduce them. A matchmaker of sorts with high intuition. But the result is a solid fund, not a couple.
If you could give entrepreneurs one piece of advice about working with you, what would it be?
Point out when people are wrong, sooner rather than later.
What tips would you pass on to someone getting started/raising their first fund/making their first investment?
Have a partner who already has built a fund and knows the short cuts. There are a lot of things considered to be 'must haves' which are not in fact essential or needed. Funds can be managed in a thrifty manner at a cost benefit to the investor and with lower management fees. High net worth investors are putting increasing pressure on management fees, so it is important to be able to meet the expectations of those clients.
What early stage investing blogs/thought leaders/sources do you follow?
I follow Paul Polman, Michal Klar, and the Earth First Food Fund, among others.
What is your biggest challenge as an impact investor?
Convincing other 'doubters' that this sector is the future and yields higher profits simply since you are mitigating risks. It is NOT PHILANTHROPY. Impact offers great opportunity.
Do you have set expectations for founders on how they should lead their teams and communicate with their investors?  
It is never enough. We have been making videos to report to investors. However, investors cannot have a hand on the pulse throughout the year. For the anchor investors, one on one calls are expected.
What is the top quality you look for in a startup founder?  
Passion for a topic, not a generalist.
Stay tuned for additional interviews as The Seraf Compass continues to profile interesting impact investors, small funds, women investors, and family offices.