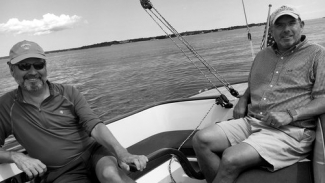 Seraf co-founders Ham Lord and Christopher Mirabile have shared their views on angel investing with Sal Daher's Angel Invest Boston. Here's Sal's description of the show: 
The collaboration of Ham Lord and Christopher Mirabile, two of Boston's most consequential super angels, is widely admired. Its most visible fruit is the success of Launchpad Venture Group, which they manage together. In this revealing interview, they let us in on how this winning collaboration came to be and what keeps it productive as it approaches the end of its first decade.
Christopher Mirabile and Ham Lord have been interviewed individually on earlier episodes of the Angel Invest Boston Podcast. In the current episode, the two different personalities interact and give us a glimpse into what drives their working relationship.
Listen to the podcast here or read the full episode transcript.
Topics Covered in this Episode of Angel Invest Boston:
Christopher & Ham's Remarkable Collaboration
How They Connected
Division of Labor
Lucky to Have Jodi Collier as Operations Manager
Complementary Skills & Creative Tension
What They Enjoy in Working Together
What Motivates Christopher and Ham
How Christopher & Ham Differ in their Investing
Gene Gregerson, an Engineer's Engineer & Mobius Imaging – Astonishing Feat of Entrepreneurship
Blind Spots: How Having a Partner Helps Avoid Them
Integrity in the Founding Team is Essential – Due Diligence Screens Out Frauds
Geographic Focus Makes It Possible to Add Value
Dos & Don'ts for a Winning Collaboration
How Ham and Christopher Work Things Out When Problems Arise
Co-CEOs Raise a Red Flag but Can Work
Trends Christopher & Ham See
A Business Semyon Dukach Would Like!
Want to hear more about Ham and Christopher's backgrounds and approach to early stage investing? Listen to Sal's individual interviews with each: Super Angel Investor & Startup Founder: A Conversation with Ham Lord and Angel with a Plan: A Conversation with Christopher Mirabile.