This article is the ninth chapter of The Entrepreneur's Journey, a collection of stories about startup companies and the entrepreneurs who built them. To continue reading about key startup themes and lessons learned, check out the entire series here in The Seraf Compass, or purchase the book on Amazon in paperback or Kindle format.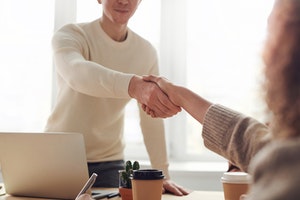 When you combine great leadership with a strong board of directors, the likelihood of a successful outcome for a business increases by an order of magnitude. Legally, directors are required to provide governance and oversight. However, truly engaged and knowledgeable directors can add significant additional value by providing strategic input and advice. As members of the board, they occupy leadership positions. While that leadership is not always explicit, it can manifest itself in many ways. A truly engaged board adds value and demonstrates leadership in many ways. Examples include recruiting members of the senior management team, assisting with raising new financing to grow the business, helping with introductions to key customers, evaluating and developing the CEO and management team, and influencing a successful financial exit for investors.
Christopher, Joe and I have had the good fortune of working on boards with great investors who have enthusiastically given a company much more than just cash. These investors are true value-add directors. They have positively and significantly impacted shareholder value. That impact, of course, can range from driving higher exit values to navigating crises which threaten the company's very existence.
Avedro is an example where investors, serving as directors and leaders, both positively impacted the company's likelihood of survival and helped maximize enterprise value. These investors were deeply engaged alongside management in company building, team building and crisis management. 
_______________________
The story of Avedro began with David Muller. Early in his career, David founded and led Summit Technologies which was a pioneer in the use of laser technology to correct vision by altering the shape of the cornea. This simple, outpatient procedure, known as Lasik, has been successfully performed millions of times by ophthalmologists throughout the world. 
In 2002, several years after leaving Summit, David founded Avedro to continue his early work with corneal disease. He licensed technology from Dartmouth College, and, because of his Summit reputation, was able to raise financing from several venture funds. He set out to develop novel treatments for corneal disease. 
The company's first product was a drug plus device therapy to treat keratoconus. Keratoconus is an underdiagnosed disease, often beginning in childhood, for which there is no readily available and effective therapy. It is a disease where the cornea weakens and thins over time. This causes the development of a cone-like bulge and optical irregularity of the cornea. The disease can result in significant vision loss and can lead to a corneal transplant.
David believed the keratoconus market opportunity was relatively modest. But, the disease was one without an effective treatment. Avedro's strategy was to demonstrate safety and efficacy of their existing novel drug-device combination to the Food and Drug Administration (FDA), which might pave the way for future clinical indications, i.e. medical challenges requiring treatment. For their first indication, keratoconus, their expectation was they would obtain FDA clearance and then begin a market introduction of the product. This would allow Avedro to generate early revenue, and create awareness of the potential of their technology to treat other indications. 
The company believed their strategy would simplify the regulatory path for future applications of their technology. Their goal was to obtain subsequent clearance of other higher volume and potentially more lucrative clinical applications after securing their initial approval. For example, the company believed its technology could successfully treat myopia (i.e. nearsightedness) which affects many millions of people. 
But first, the company had to develop a working treatment for keratoconus. This turned into a long expensive process that required seven years of development before performing the treatment on its first clinical patient in 2009. 
_______________________
Avedro's regulatory strategy made sense to management and its venture investor-heavy board. But, somehow the regulators at the FDA viewed this drug-device combination as much more novel and complex than the company expected. The FDA turned down Avedro's first application for market clearance. 
The agency advised the company that clearance would be contingent on positive results generated from significantly more clinical testing than the company had completed at the time of their initial FDA application. After several years accumulating more data, Avedro filed their second application for clearance in March 2015. Despite a panel of experts recommending approval, the FDA turned them down a second time. This was devastating news for the company. And, it wasn't anticipated by the Avedro management team or the board. It meant a much longer approval timeline, and it meant this thirteen year old company would require substantial additional capital. 
The company's existing investor base was surprised by this setback, frustrated with management's lack of progress, and unwilling to continue backing the company. By the time of the second FDA rejection, Avedro's journey had already been a long, tortuous process. To put it into personal perspective, one of the earliest investors, Phil Ferneau at Borealis Ventures said, "When we first invested in 2003, my oldest daughter was in first grade. By the time the company exited, she was graduating from Dartmouth." 
Most of Avedro's investors were not native to the medical device world. During their collective history with Avedro they had very little input on the strategy and direction of the company. These investors had the best of intentions, but management did not often look to them for advice and counsel. Relegated to the sidelines, the investors had to content themselves with the hope that in time, something positive would come of their investment. 
_______________________
Despite the disappointing second FDA rejection and investor frustration, David Muller, Avedro's CEO, was not willing to give up. He still believed in Avedro's potential. And so, he began beating the bushes looking for new investors. David quickly identified several prospects. 
One investor stood out for a number of reasons. Dr. Gil Kliman is a general partner at Interwest Partners. Interwest is a prominent and successful venture capital investor in the life sciences, and specifically ophthalmology. Moreover, Dr. Kliman is a board certified ophthalmologist who trained at the University of Pennsylvania School of Medicine and completed his training in ophthalmology at The Wills Eye Institute and The Massachusetts Eye and Ear Infirmary. Some years later, he completed his MBA at Stanford's Graduate School of Business and began a second career in venture capital.
Gil's industry resume speaks for itself. He had several high profile investment successes in ophthalmology. He was a regular attendee at all the major specialty meetings, and he had a superb network in the industry. And to top it off, Gil co-founded the Ophthalmology Innovation Summit (OIS), which showcased the latest and greatest innovations in the ophthalmic device industry at its sold out annual conferences. 
Prior to David reaching out, Gil had been following Avedro's progress. He understood its potential. On paper, Interwest was the definition of a perfect Avedro investor. Arguably, there could not have been a higher potential value-add investor for the company. Gil understood what David was trying to do and believed in the company's technology. He had followed the company's long and tortured history and was curious enough to take a meeting with David and his team. 
Gil came away from his meeting at Avedro even more intrigued. He asked Reza Zadno, an entrepreneur-in-residence at Interwest, to take a much closer look at Avedro. Reza was a star in his own right. He was a Ph.D. trained engineer, a successful serial entrepreneur, and had led multiple medical device companies to successful exits including a first-of-breed ophthalmic device company. He came away from his due diligence enthused about the company and its prospects. 
Reza said of Avedro, "The product worked and it was safe. Given recent market research, I really believed the initial target market for the treatment of keratoconus was much bigger than the company believed." Reza met with Gil to discuss making an investment and in the end, recommended that Gil and Interwest lead a new round of financing in Avedro. Gil agreed. 
When asked about his motivation to invest, Gil said, "My passion is to help bring first-of-a-kind ophthalmic innovations to market that can dramatically improve care. Avedro was an ideal opportunity, being a pioneer in developing a breakthrough treatment to treat a potentially blinding eye disease. I was excited by the potential that, with the right resources, corneal crosslinking technology for keratoconus could earn FDA approval and become highly successful around the world."
_______________________
As a value-add investor Gil knew his first task was to enlist co-investors to fill out the round of financing. His initial call was to Jonathan Silverstein at Orbimed, another highly respected and substantial healthcare investor. Gil successfully worked with Jonathan in the past when they co-invested in Glaukos, an ophthalmic medical device company. There were a lot of similarities between Avedro and Glaukos. Both companies were in the ophthalmic device industry. And, both companies had experienced an extended timeline to get to market along with a number of unanticipated financings. 
Jonathan agreed to co-invest with Gil and Interwest. Jonathan emphasized, "I trusted Gil's clinical judgement and I liked the ophthalmic space. Avedro had a clinical solution to a bad disease no one else could offer. I wanted in."
Toward the end of 2015, Interwest and Orbimed made a financing offer to the company. It was aggressive. It was highly dilutive to existing investors, but Avedro needed the money. The investors were high quality and the company had no viable alternatives. Immediately after their investment of financial capital, Gil and Jonathan began to contribute an incalculable amount of valuable human capital.
They began their efforts at the top. After what the company had been through they knew they needed to identify and hire a new CEO. They constructed a specification for the ideal leader. Based on what they believed the company's most immediate needs were, they realized the best potential CEO candidate was hiding in plain sight, Reza Zadno. 
Reza had completed the due diligence on behalf of Interwest. He understood the value of the technology. He was an experienced and successful leader who had led multiple companies to successful outcomes. He had the technical background to contribute to the product's continued development. 
The offer flattered Reza, but he was not sure he wanted a full time CEO job, especially with a company located on the opposite coast from where he lived. However, after some time to consider the opportunity, he ultimately agreed to join Avedro as a consultant and acting CEO in early 2016. Soon after, he accepted an offer to join as full time CEO in July 2016.
Given his experience with the company, its people and its challenges, Reza knew what he was getting into. This knowledge, combined with his excellent relationship with Gil and Jonathan, allowed him to hit the ground running. The opportunity was exciting for him and he was thrilled to be working with Gil and Jonathan once again. 
Reza said, "Not all money is the same. I had worked with Gil. And he knows the target customer very well, literally. He is a board member who attends all ophthalmic conferences, symposiums and advisory meetings and feeds market knowledge and perspective back into the company. Yet he does all that without micromanaging or interfering in the day-to-day company business. Jonathan, meanwhile, is a one-of-a-kind investor. He is your business conscience. You better listen to him if you want to succeed."
_______________________
The company board was now composed of Gil, Jonathan, one industry independent director, and two of the early investors. Reza's first order of business was to challenge Avedro's assumptions relative to its go-to-market strategy. During extensive discussions with his board, Reza recommended a shift to the company's thinking. His extensive market research showed the keratoconus market size was likely much larger than early estimates by the company's initial management team. 
With the board's guidance and approval, Avedro repositioned itself in anticipation of building a sustainable business around the keratoconus indication. Reza explains, "The disconnect between early estimates and our more optimistic estimates was based on clinician underdiagnosis. Because there were no effective therapies for keratoconus, there weren't any effective diagnostic tools available." Gil, a highly networked and trained ophthalmologist, consulted with colleagues and friends to confirm Reza's thinking. 
_______________________
Avedro began to make progress, received its FDA approval later in 2016 and experienced accelerated revenue growth. In anticipation of future financings and even a possible public offering, Reza, Gil and Jonathan knew they needed to restructure and strengthen the company's board. As part of this process, Gil and Jonathan made sure the board was less venture investor centric. 
First, the company recruited a retired Fortune 500 public company CFO to join the company in anticipation of a public offering. The company was fortunate to get someone of his caliber. Next, at Gil and Jonathan's urging, they recruited Tom Burns. Tom was the CEO of Glaukos, a successful public company in the ophthalmic device industry and a portfolio company of Interwest and Orbimed. Tom was someone with experience launching a disruptive new device in the ophthalmology market. Tom was a timely and impactful addition to the board. 
Finally, they recruited Bob Palmisano, at the time the CEO of a large, public orthopedic device company. Bob had also served as the CEO of Intralase, a very successful ophthalmic capital equipment company. Bob was a well known and universally respected senior operating executive. With the addition of these strong leaders, the board was more execution oriented, especially in the area of commercial operations in ophthalmology.
_______________________
Working closely with Reza, the board evaluated Avedro's management team, and where appropriate, made changes. Recruiting and hiring top management talent is a big responsibility for a board. This was a case where the personal networks of the board really mattered. Gil and Jonathan were able to put together a long list of prospects for multiple positions based on the needs identified by management as the company's near term priorities. 
One immediate position to fill was the CFO. At the time, this position was vacant. With the company's needs for future financings and a possible IPO, a highly experienced senior executive would be required. Again, in the course of a board meeting, the directors nailed down a job specification and discussed potential candidates. In a matter of months, an experienced senior executive from the medical device industry, with public company and M&A experience, filled the position. Other key management team hires included the chief commercial officer and the executive who would develop broad-based insurance coverage for Avedro's product.
_______________________
By working closely with its experienced board of directors, Avedro's new management team made tremendous, deliberate progress in approximately three years. By 2018, the company had rapidly-growing revenue for a product that treated keratoconus, a disease with no previous cure. The market for their product was growing. And, the company had intellectual property that would keep competitors at bay for the foreseeable future. It was finally time to think about a public offering for Avedro's stock.
Gil, Jonathan and their colleagues on the Avedro board were well known in the investment banking community. The board's reputation helped with the perception of Avedro as a hot company. Several tier-one bankers, knowing the quality of both Gil's and Jonathan's industry connections, wanted to be part of taking Avedro public. In the end, JP Morgan and BofA Merrill Lynch led the IPO. On February 14, 2019, Avedro completed a public offering, which was not only successful, but also exceeded everyone's expectations. It looked like a fitting end for the investors and employees who had given so much over the years to bring this important product to market.
But the story was not over. During the Summer of 2019, an acquisition offer surprised Avedro. The offer was an all stock offer, and it was from Glaukos. Tom Burns, the CEO of Glaukos and an Avedro board member, disclosed to the board his company's desire to make an offer. Due to his conflicted interests, Tom had to resign from the Avedro board. Avedro's board and management team were taken aback. They could only speculate as to what provoked this sudden and very good offer. It soon became clear. In making the case for the deal to the Avedro team, Tom revealed that Glaukos viewed Avedro as a key component of its future growth strategy.
_______________________
After years of setbacks and frustrations, Avedro finally succeeded. The merger was completed in November 2019. Although Gil stepped down from both boards in the course of the transaction, he later rejoined the Glaukos board of directors. Reza went on, yet again, to assume the CEO role of a venture-backed medical device company in the growing medical robotics market. 
Avedro is a powerful example of great investors exercising leadership by bringing so much more to the table than just money. They helped Avedro's senior leadership to better meet the company's needs. Gil Kliman and Jonathan Silverstein introduced Glaukos' CEO to Avedro and recruited him to their board. They knew Glaukos well as early investors, and recognized potential synergies between Avedro and Glaukos. The potential they recognized and the team connections they made were key to creating the successful outcome the company experienced. 
We have seen it time and time again. Investors who become board members can be great partners to a CEO and the management team. Their combined resources can help management and the company achieve their lofty goals. A great entrepreneur will recognize the contributions a great board can make, and be sure to enlist board members as partners in the long road to success.
Interested in reading more stories about key startup themes and lessons learned? View the entire collection here in The Seraf Compass or purchase the book on Amazon in paperback or Kindle format.