Explosive Growth in Funds
Hardly a day goes by now in the startup investing arena without hearing of a new venture fund raising money. And not just large-scale venture funds. There is explosive growth in funds of all types, including micro-VC funds, angel funds, accelerator funds, social impact funds, seed funds, university funds, corporate funds, and government funds. Part of this acceleration is due to a cyclical rotation toward a focus on earlier stage companies and part is due to the steady growth in venture financing since 2008 as shown in the graph below.
Fund Management
Announcing you are starting a fund is easy. But managing a venture fund comes with many challenges. Experience teaches us there is more to running a successful fund than finding companies and hoping for big exits. Assuming you've been able to raise a fund, you need to develop an investment strategy that will generate acceptable terms, and you need to build a streamlined operational model which will allow you to put your focus where it belongs; on building portfolio returns rather than scrambling to cope with managing deal flow, tracking portfolio companies, mentoring founding teams, serving as board directors, staying on top of documents, updating valuations, managing LP calls, fees and distributions, and of course...reporting, whether it be to your limited partners or other entities. All of these tasks take time, and when the name of the game is ROI, efficiency matters. And to be efficient, you need the right tools.
Seraf's Mission
At Seraf, we believe investors in early stage companies should have access to best practices and professional tools to support the entrepreneurial community and achieve exceptional outcomes. Insights and education, combined with powerful portfolio management tools, allow investors to understand their investing better, learn faster and make necessary adjustments to select the highest quality opportunities and drive optimal returns.
For this reason, we developed the most comprehensive set of educational materials for early stage investors and built a suite of tools for portfolio management, analysis and insight that together enable early stage investors to achieve superior results.
Seraf Announces New Fund Management Solution
With over 25 years experience in fund creation and management and $3.1B in assets on its platform, the Seraf team understands the complexities of today's early stage investment landscape. We provide specialized solutions to a wide range of individual investors, angel groups and venture organizations around the world who share our vision of professionalizing early stage investing. Now, in response to market demand from the huge growth in funds, Seraf is excited to announce its newest product, a comprehensive fund management solution.
We recognize that, as a fund manager, you need powerful tools to streamline a wide variety of tasks, to help save valuable time, and to improve efficiencies so that you can focus on driving returns. Professional, easy-to-use solutions are critical if you want to build credibility and raise real money, especially if this is your first fund and you don't have a proven track record to fall back on. Spreadsheets simply don't cut it.
Seraf vs. Excel - Can Your Spreadsheet Do This?
With Seraf's new fund management portal, all of your information is secure in one place, accessible from any device whether you're in your office, at meetings, or traveling half-way across the world. You can quickly:
Get contact details for LPs and company founders,

Look up how much you invested in a given company,

See the current value of your portfolio,

View how much has been called and deployed, and

Instantly access deal documents, term sheets, financials and company reports.
Unlike spreadsheets, Seraf provides portfolio performance insights through a variety of analysis tables, charts and graphs, and automatically calculates key metrics like IRR, NAV, TVPI, RVPI and DPI to give you instant on-the-fly access to that data whether you are in the boardroom or on the go.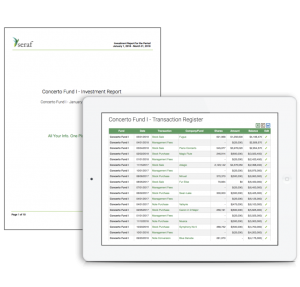 Anyone who spends time managing a fund knows that fund reporting is very time-consuming - a tedious but important task. Seraf makes this simple, whether you're reporting out to LPs, government agencies, or corporate entities. Quarterly statements are automatically generated by Seraf for you to download and distribute with the click of a button. Seraf also makes fund accounting easier by providing an exportable transaction register of every purchase, sale, dividend, fee and interest payment in chronological order which can then be turned over to accountants and tax specialists.
If you're using spreadsheets to manage your early stage fund, you're probably leaving money on the table. In the long run, Seraf not only pays for itself but also helps increase ROI by saving you time, increasing efficiencies, aiding in the recruitment of new investors, and providing critical insights so that you can make smarter decisions and drive superior outcomes.
Seraf Fund Management Key Features
Multiple Funds - Manage multiple funds from one account easily and securely in any currency

Dashboard Views - Get dashboard views of fund performance and high level metrics

Investor Capital - Stay on top of investor capital including % ownership in the fund, commitments, calls, amount outstanding, distributions, fees and carry

Deal Flow - Track and sort companies by stage, from initial contact through investment and exit

Portfolio Tracking - Monitor current investments including amount invested, shares owned and current value - by company and by round

Company Profiles - Quickly access company profiles, contacts, KPIs, financing histories, documents, key dates and transactions

Transactions - View all your transactions in one chronological Transaction Register which can be easily exported for Accountants and Tax Attorneys

Exits & Returns - Track returns and view net proceeds, multiples and IRR; stay on top of outstanding contingent payments

Valuations - Mark to market and update valuations in real time

Performance Analysis - Analyze portfolio performance and gain insights into valuations and key drivers of growth including diversification by company and industry, portfolio trends, annual stats, valuations, unrealized IRR, and key metrics; discover where future opportunities may lie

Fund Metrics - Access fund metrics including NAV, DPI, RVPI, TVPI and IRR; quickly view amount committed, called and deployed so you know what's on hand

Reporting - Generate Quarterly Statement Reports at the Fund level, and for every LP with a click of a button

Document Storage - Upload, organize and store all your investment documents in one secure place for quick access any time - diligence materials, investor reports, financials, deal documents, share certificates, fund agreements, etc.

Upcoming Dates - Monitor upcoming events and set reminders for warrants expirations, convertible note maturity dates, escrow payouts, redemption rights windows, capital calls, reporting deadlines and more so that you never miss an opportunity to increase your returns

LP Access - Provide direct portal access to each LP with personal investment details, fund performance, reports and documents
To learn more about using Seraf to manage your fund, schedule a demo.
To learn more about raising and managing a fund, download this free eBook today Venture Capital: A Practical Guide or purchase a hard copy desk reference at Amazon.com.