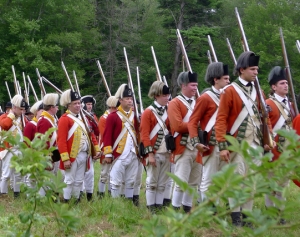 Whether you keep your money in a checking account, savings account, IRA, 401K, or public securities such as stocks and bonds, chances are you receive, and appreciate, financial statements with account information several times a year.
But what about the money you invest in private, early stage companies, an arguably riskier and more volatile asset class? Why don't you get a financial statement for these investments?
Now you can. Seraf is revolutionizing and professionalizing early stage investing. For years we've provided powerful portfolio management solutions to help angel investors, accelerators, family offices, angel groups, funds and micro-VCs stay on top of their portfolios, analyze key metrics and store investment documents.
Building on this track record, we are excited to include quarterly account statements in our suite of tools to help create a complete financial picture. Each statement resides securely in your account where it can be printed out or downloaded as a PDF to share with tax accountants, wealth managers, advisors, and family members. Organizations using Seraf's Enterprise Portal can access reports for their entire portfolio as well as for each investor/LP.
The statements are designed to give you a quick but comprehensive overview of your account; each statement includes:
A summary of holdings since inception including total amount invested, gains, and the number of companies and rounds invested in

An overview of portfolio value broken out by company and highlighting changes in the past quarter and year

Recent activity for the most recent quarter and year including the amount invested, the amount returned and the number of new companies and rounds

Returns since inception including total cash invested, cash returned, the combined exit multiple and the IRR if liquidated at current valuation

Reminders for upcoming important dates such as convertible note maturities, escrow payouts and warrants expirations

Transactions in period

Valuations in period

Details of the current portfolio listed by company/fund including cost basis, share count, value, percent ownership and unrealized IRR

Charts and graphs highlighting annual portfolio growth including amount invested, amount returned and increases in value

Key Metrics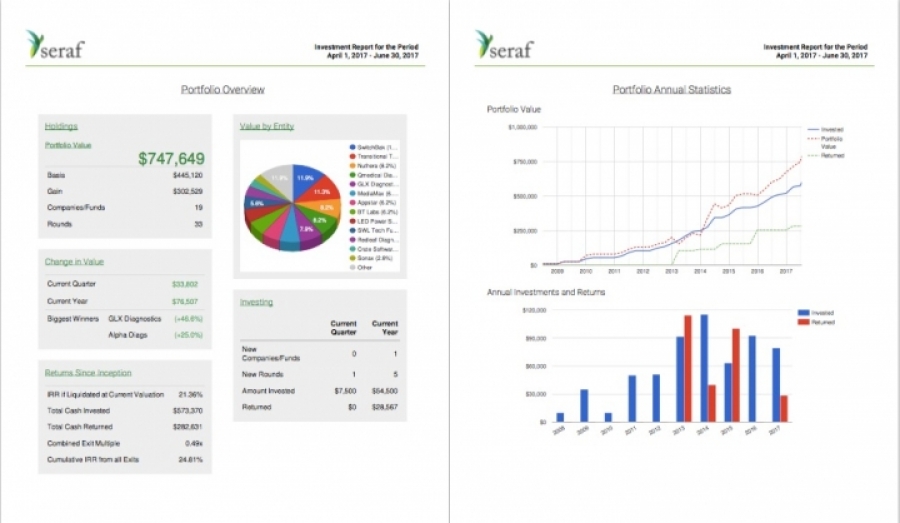 Seraf's quarterly statements represent an important step forward in the professionalization of early stage investing. They provide individual investors with the missing link, enabling them to gain a complete understanding of their financial situation. For angel groups, accelerators, angel funds, family offices and micro-VCs, these statements offer a quick and efficient way to increase transparency and easily report out to investors. They can even be used to report to state agencies, industry associations, or other entities which request activity updates.
As well known VC Fred Wilson wrote, "If you want to get sharper and better at something, track and measure it." Our sole focus at Seraf is to provide the tools and knowledge investors need to track and measure their portfolios. Our software suite is unique and is accompanied by thought leadership and insightful articles on all aspects of early stage investing. If you are at all involved in investing in startups, we know you'll find it worthwhile to explore the more than 150 posts in our award-winning angel investing blog, The Seraf Compass, and learn more about our portfolio management solutions for Individuals and Enterprise organizations.