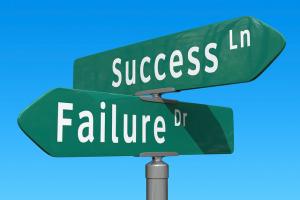 CB Insights recently published a study on the most common reasons startups fail. They looked at the cause of death on 101 start-ups and, not surprisingly, "Market," "Cash" and "Team" were major factors.  But what might surprise many is that all three of those factors out-ranked "competition" as a source of death. There is an adage that start-ups don't get killed, they commit suicide. CB Insights' study lends some credence to that idea.  
Their top 20 reasons why startups fail, in order from most common at the top to least common at the bottom, are below.  For more discussion of each factor, surf over to the full study.
Top 20 Reasons StartUps Fail
#1 – Building a solution looking for a problem, i.e., not targeting a "market need"
#2 – Ran out of cash
#3 – Not the right team
#4 – Get outcompeted
#5 – Pricing/Cost Issues
#6 – A "User Un-Friendly" Product
#7 – I got this product. Now I just need a business model.                
#8 – Poor Marketing
#9 – Being inflexible and not actively seeking or using customer feedback
#10 – Release product at the wrong time
#11 – Lose Focus
#12 – Disharmony with Investors/Co-founders
#13 – Pivot Gone Bad
#14 – Lack Passion and Domain Expertise
#15 – Location, Location, Location
#16 – No Financing or Interested Investors
#17 – Legal Challenges
#18 – Do not use your connections or network                
#19 – Burn Out
#20 – Failure to pivot when necessary
Thanks to CB Insights for this data.  CB Insights is a research firm which "helps you track the world's most promising private companies, their investors, their acquirers and the industries they compete in to help you invest smarter."