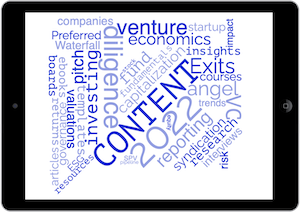 As a leading voice for professionalism in the early-stage investing community, Seraf provides extensive materials on all aspects of early stage investing. In keeping with our company philosophy, we believe investors in early stage companies should have access to best practices and professional tools to support the entrepreneurial community worldwide and achieve superior outcomes. So, we've consolidated our investment knowledge and best practices into the Seraf Compass, a well-organized and easily searchable collection of articles, courses, toolkits, ebooks and books to help early stage investors make better investing decisions, minimize risk and improve returns. 
In the spirit of year-end top playlists and top photo shares, and to help you kickstart your investing in the new year on as informed a footing as possible, we've summarized our most highly-viewed pieces from 2022. If you haven't seen these pieces yet, we know you will enjoy checking them out! 
We also hope you will read through some of the cool profiles of interesting people in our Investor Profile Series, launched in 2021 and ongoing. Get different perspectives and learn from over 25 individuals, including women investors, fund managers, impact investors, and family offices.
As always, our materials can be found for free within The Seraf Compass or you can purchase desk reference hard-copies of all of our books about angel investing, deal leadership, due diligence, valuations, fund formation & management, and entrepreneurs' stories on Amazon. To stay up-to-date on all things related to early stage investing, be sure to follow us on LinkedIn and Twitter and subscribe to The Seraf Compass to receive our weekly, award-winning blog post.