This article is the seventeenth chapter of The Entrepreneur's Journey, a collection of stories about startup companies and the entrepreneurs who built them. To continue reading about key startup themes and lessons learned, check out the entire series here in The Seraf Compass, or purchase the book on Amazon in paperback or Kindle format.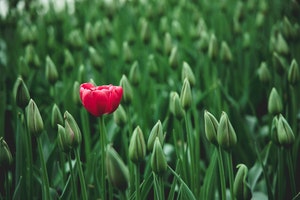 Before investing in a startup company, early stage investors constantly ask a key question, "Are enough customers ready and willing to try this new product or service?" Ken Rainin, an inspiring serial entrepreneur, successfully confronted this "Is our customer ready?" question time and time again.
Ken was an extraordinary businessman and charismatic leader. He was the type of person one was drawn to, high energy, grounded, funny, and with great business instincts. 
Ken graduated from The Ohio State University with a degree in English. After a brief stint as an industry salesperson, Ken founded and built Rainin Research, a developer and manufacturer of scientific instrumentation. The company is best known for its invention of the automated pipette system found in most scientific research laboratories.
As CEO of the company, Ken demonstrated vision every step of the way. He understood the laboratory instrument market, what it needed, and how to package, position, price and deliver products to the customer. These skills, combined with his uncanny instincts for product positioning, made Ken a great leader. He bootstrapped Rainin Research until it's acquisition by Mettler-Toledo in 2001 for $290 million.
During his time running Rainin Research, Ken was also an active angel investor. At the suggestion of his brother, a practicing ophthalmologist, Ken helped found and finance a company called Ioptex. Ioptex designed, manufactured and sold intraocular lenses. These lenses are surgical implants used to replace the natural lens when it becomes a cataract. As we age, the eye's natural lens becomes cloudy. A cataract forms reducing our ability to see clearly. To correct cataracts there is a short surgical procedure, where an artificial lens replaces the natural lens. This procedure accounts for a significant percentage of Medicare dollars spent in the United States.  
____________________
Ken had to confront two big challenges with Ioptex. The first challenge was all about timing. The company was a late entrant in a crowded market. Major competitors included Johnson and Johnson, 3M, and Abbott Medical Optics, among others. Ken's second challenge was with Ioptex's products. While safe and clinically effective, their products were not highly differentiated. Many competitors offered similar products. 
Furthermore, Ioptex faced additional hurdles, including a limited product offering, little or no ability to buy market share, and limited working capital, as Ken had personally financed the company. Hiring skilled sales representatives and key executives was also a challenge. Talented performers were reluctant to join an unproven, poorly financed, late market entrant. 
So how was Ken going to overcome the challenges that would doom most less experienced entrepreneurs? Ken knew he was going to need a clever way to differentiate his product if he was going to succeed. He thought deeply about his market moment, and he thought empathetically about where his customers were at. Decades of new but expensive technological advances were forcing physicians to make investments in both technology and skills in order to stay competitive in their market. This left them little time to manage their practices during a period of increasing competition. Ken's winning insight was to understand these issues, and to time delivery of a solution for its problems perfectly.
Working closely with its sales organization, the company cleverly formulated a novel and unique sales approach. This unconventional approach would prove to be the key to penetrating the market and ultimately drive the company's success. Tom Smith, an early Ioptex sales representative in San Francisco, recalls why he joined the company, "I recognized Ioptex's novel selling process to the market could be a potential game changer."
Tom said, "I called this process value-add selling, providing the customer more than the device itself. Years ago, service stations sold gas. Today, they sell service, sundries and other items to meet the customers' needs, hence value-added selling." Tom believed this creative sales approach could help Ioptex overcome other barriers to success in this highly competitive market.
Ken hired Jim Rybicki to lead the sales effort and further develop the value-add sales approach. Jim championed the emerging Ioptex sales strategy. He recognized and appreciated the extent to which physicians, in addition to their clinical practice, were managers of small businesses, roles for which they had no training. Ken's insight was that these physicians needed more than a product. They needed help. Ken believed the Ioptex representative could provide this support.
Tom said "On a sales call we didn't talk just about our product's features and benefits. Our sales calls were built around strong working relationships with targeted, pre-qualified physicians, and introducing them to our value-add practice development tools." The typical Ioptex representative, said Tom, "Worked to fulfill the customer's specific professional needs which may have nothing to do with the device we were trying to sell."
Ioptex created a suite of practice development tools. These tools offered the overwhelmed physician a chance to grow both financially and professionally. The Ioptex sales approach got them in the practice door and kept them there.  
This sales methodology was transformational because it was not merely transactional. Transactional selling, the industry standard, is tactical in nature. The salesperson focuses on features, benefits and price. Transformational selling begins with understanding the customer's real needs. Tom began sales calls by asking open ended questions. What are your objectives for the practice? Where do you want to be in five years? Do you have a strategic plan to help get there? The questions focused on the practice, not the product he was selling. In closing, he tells the physician, "I think we can help." 
This customer-first attitude built strong professional relationships, and broke down normal barriers to entry in most practices. The Ioptex representative would spend far more time with a physician, who wanted to discuss the business of being a physician, than competitors would spend. The sales rep was there to deliver common sense advice to the physician.
Given their customer-first orientation, it was only a matter of time before the company gained a foothold in practices and developed a loyal and growing customer base. This was a win-win strategy. The practice worked better, the patient flow increased, and as a result Ioptex sold more of its lenses. Competitors found the Ioptex strategy mystifying and were completely unable to emulate it. Whatever barriers existed due to Ioptex's late timing into an already crowded market were overcome by its novel, game-changing sales strategy.
____________________
Understanding the company's potential, Ken knew the next phase of growth entailed broadening their market opportunity by selling to more mainstream customers. He recognized in order to do so he needed cash, and this was more cash than he was willing to personally put at risk. Coincidentally, in the summer of 1986, bankers took note of Ioptex's growth and suggested Ken consider taking Ioptex public. Eager to make some money from his investment in Ioptex, Ken agreed. For a number of reasons, the public offering failed. One of the core reasons was timing. Just as the company was getting ready to market the deal, the stock market had turned south. During the pre IPO roadshow, the stock market suffered a precipitous one-day fall. The stock market cooled. The only way to complete the offering, said the bankers, was to reduce the price. Ken refused and started looking for alternative financing.  
The timing wasn't right for an IPO, but Bob Stockman, an ambitious, young investment banker contacted Ken and proposed to organize a leveraged buyout of a significant piece of Ken's ownership in the company. Supported by Merrill Lynch Interfunding, the deal closed. In doing the deal, Ken fixed his liquidity challenge but replaced it with a debt challenge. Sales and high margin growth were critical. Cash was king. Paying down debt was a key objective.
Ken hired Joe Mandato to walk this financial tightrope as the Chief Operating Officer for Ioptex. Joe's broad and deep ophthalmic industry experience impressed Ken. He was still running Rainin Research, so he counted on Joe to develop the company's infrastructure, especially in marketing, strategy, and operations.   
____________________
One of the first things Joe did after joining Ioptex was to work with his team to formulate a strategic plan for growing the business. At the core of this effort was a desire to better define the ideal target customers, the customers who would respond best to their value-added sales approach. They had to make sure Ioptex was well positioned as a valued partner not only to current customers, but to a large enough number of future customers. This would ensure continued customer stability, loyalty and growth.  
The new management team sought to codify what was working about their new sales approach so they could hire and train additional sales reps capable of practicing it. The team spent time in the field with Ioptex sales professionals, including a rep named Kevin McMahon in Upstate New York. Using the value-add approach, Kevin developed a small but productive customer base. "In physician visits," Kevin said, "I made simple suggestions. I recommended the office staff be uniformly dressed and wear name tags. I stocked the office with patient education materials. I suggested the practice throw out months old magazines and order new subscriptions. They loved me for what I could do for the practice. I was a smarter rep than the competitors. I charged nothing for my thinking. It was my way of being a professional the physicians valued. Value-add selling worked."   
While Kevin's suggestions may seem obvious, they weren't to many of the physicians. Time and time again, physicians told Ioptex that the changes the company representative recommended increased patient satisfaction immediately. Patients of Ioptex's trained physicians noted the practice offered a better patient experience in an attractive, patient-centric office. Physicians also noted their satisfied patients generated new patient referrals to the practice.
With a deeper knowledge of their market moment and their target customer in hand, the Ioptex management team sharpened their focus on training their salesforce. Deep down they knew they had to grow a highly consultative sales team able to do what Kevin did in New York. To pay off all their debt, the company's primary challenge was to accelerate high margin growth by expanding their customer base. And consultative selling was the chosen path to success.
Joe said, "It was critical for us to identify and hire quality sales reps according to our well defined, customer-centric selling approach. We looked for customer-centric sensitivity as a key indicator to help us hire new sales professionals. The rep's ability to understand and master the Ioptex practice development tools was a key element to our success with customers and prospects."
Joe also spent his early days at the company trying to understand what the company could not do. First off, it couldn't match the industry's focus on market share, which stressed features, benefits and price. Joe said, "The industry's focus on market share was a war we could not win. Our goal was to grow in high potential territories with physicians who fit our profile. We needed fewer, more productive practices to grow and succeed."
____________________
With a strategic plan in hand, Joe's team was ready to execute. They identified their ideal target client as young ambitious surgeons who were early in their career and looking to build a new generation of medical practice. These surgeons were looking to grow and develop successful businesses while enhancing their own images as future key opinion leaders. Mark Hayward, the company's first marketing director said, "Through careful research, we were able to identify the practices where we should focus our attention."
By methodically expanding what worked in their high growth accounts, they used their practice development sales approach to drive further growth. Seeking board approval for the plan, Joe described the target physician customer to the board. He said, "Being a competent surgeon is no longer sufficient to succeed in a competitive marketplace. The surgeon-owner of the practice needed to understand how to best drive and manage a business." Further, he said "It's necessary for the physician to be a marketeer, a businessperson, a lawyer and a manager, all at the cost of time doing surgery." Recognition of the importance of  these issues and a focus on solving them was key to Ioptex's success in expanding its business.    
The company enhanced its practice development offering to include more sophisticated materials. The company refined and built upon the simple tools Kevin McMahon offered. Sales veteran Tom Chirillo said, "We added a layer of sophistication, which was a powerful draw for new customers and difficult for competitors to copy." Some of the new components in their offering included: staff education, patient education, marketing, reimbursement, patient productivity flow, and patient referral networks. All of this was designed to attract new patients for the physician.  
With a well defined target customer profile and great sales tools in place, the final piece to the puzzle was recruiting and training a top notch sales team. As a start, the company identified and targeted two well regarded industry sales leaders. Each of these sales reps had a large and seemingly loyal customer base. Ioptex convinced the reps it would provide an opportunity to grow professionally, through its consultative sales strategy. It took some training and a shift of mental attitude, but within a year the new reps successfully converted a high percentage of their current business and began closing new business. These high visibility reps brought Ioptex credibility when approaching other high performing reps. With that, Ioptex was off to the races.
____________________
So were enough customers ready and willing to try this new product or service? Ioptex made sure they were the answer to this question in the ophthalmic market. The company understood the market moment and customer's needs better than the competition. It provided non-traditional tools delivered by a knowledgeable sales rep to meet the needs of growing practices. The company's handbook, Strategic Planning for the Ophthalmic Practice, included a detailed evaluation of the practice, and a potential strategy and plan to achieve the practice objectives. 
Ioptex's revenue growth continued as its customers increased productivity and increased surgical volumes from their current and expanding patient base. And, as new Ioptex reps approached cash flow breakeven, the company hired more reps from a full pipeline of prospects. Great salespeople wanted to be with a winning team.    
Were customers ready for the Ioptex lenses? Yes, but the company's insight was that they were ready for more than just a good product. Ioptex's recognition that their customer base was also looking for the sales representatives' advice and counsel was a game changing insight. Employing a value-add strategy using practice development tools produced results. 
Ioptex was ultimately acquired by Smith & Nephew, a British healthcare company. Despite competition from large entrenched competitors, Ioptex had grown to number four in market share. Its compound annual revenue consistently grew in excess of sixty percent despite being in a slowing market with eroding prices. It grew by successfully taking share from the competition. Ioptex became the industry's most profitable company. It maintained the industry high average realized price, while fanatically managing its expenses and paying down debt. Ioptex's market timing in rolling out a new approach based on understanding what customers needed and how to best meet those needs was the winning formula.
Interested in reading more stories about key startup themes and lessons learned? View the entire collection here in The Seraf Compass or purchase the book on Amazon in paperback or Kindle format.