This article is the eleventh chapter of The Entrepreneur's Journey, a collection of stories about startup companies and the entrepreneurs who built them. To continue reading about key startup themes and lessons learned, check out the entire series here in The Seraf Compass, or purchase the book on Amazon in paperback or Kindle format.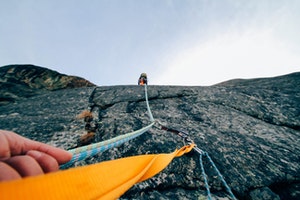 As he sits looking out the window of his brick and beam office in an old converted mill building outside of Boston, it's hard for serial entrepreneur-turned-intrapreneur Martin Flusberg not to shake his head. His company Powerhouse Dynamics has taken him on a wild ride. The company was recently acquired by a multi-billion-dollar conglomerate called Middleby. The name is new, but his job is basically the same. He's in a good place in terms of his role, his product, his employees, and his customers, but, it's not exactly the outcome he wanted or expected. Despite his prior experience, he could never have predicted the path he'd go down or the situation in which he'd land. 
Martin is living proof of the adage "hardware is hard." In fact, hardware startups are so tricky to manage that they can surprise even an experienced professional with knowledge of what to expect. These startups have a reputation with most investors for presenting more complexity and higher risk. Yet hardware startups can be very rewarding when they work. As a result, optimistic investors cannot help but chase them. This is a story about one that lived up to the bad reputation.
The challenges at Powerhouse Dynamics cannot be chalked up to a lack of education or experience on Martin's part. Martin received an electrical engineering degree from The City University of New York, after which he earned an MS in civil engineering from MIT and ultimately joined the MIT faculty. In the end, his education and career gave him plenty of experience in both hardware and software. 
Martin left MIT to join a faculty start-up initially focused on structural engineering software which morphed into a software and services company focused on transportation and construction management. It was named Multisystems. Despite being hired for a technical engineering role, a very early assignment led to the discovery that he could write sales proposals. Martin was immediately swept into the sales function. Recalling those days, he said, "I joke about how in the land of the blind, the one-eyed man is king. I was asked to write a proposal the first week, and we won. And that was the end of my technical career. A number of years later I became the CEO, not something I was expecting. But I discovered I loved it." 
After a successful 14-year run at Multisystems, Martin left for a director role at defense contractor TASC, where he was hired to run a commercial software division serving the utility and real estate industries. This provided him with a foundation in both facilities management and electrical utilities. About six years into that role the siren song of the dot.com revolution came calling. He left to co-found and serve as President of Nexus Energy Software, a provider of software solutions to the utility industry. The company was ultimately sold to ESCO, a public company that had spun out of Emerson. Nexus later merged with two sister companies. That combination morphed into a quarter-billion dollar global provider of smart grid and energy efficiency solutions known as Aclara Technologies. Navigating through various roles at these companies provided Martin with a new set of skills experiences in developing and supporting hardware products.
When he felt it was time to leave Aclara, Martin knew he wanted to continue in the startup space. "I was a CEO at a very early stage in my career and I seemed to have a high tolerance for the challenges – and pain. I wouldn't do this over and over if I weren't energized by solving the problems. The highs are so much higher because there are so many lows. I thrive on that. I have the classic mindset of an entrepreneur. I like to build something from scratch, see where it goes and steer it toward some kind of success." 
__________________________
Once free from his CEO position at Aclara, Martin began investing in startups as an angel investor. Not long after, an angel partner approached him with an interesting company called Powerhouse Dynamics. It had novel technology to monitor circuit level electricity usage. The company originally developed the technology to allow sharing a single solar energy array among two or more homes and allocate costs appropriately. The founders thought they could build a business providing residential energy management systems.
When he first heard about it, Martin was skeptical, and his initial reaction was, "Don't even think about it. There's no market for that." But his colleague convinced him to take a look. Martin explained, "They had developed a cost-effective way to monitor circuit level energy use to save on energy costs. After thinking about it, I felt there was a real opportunity serving smaller commercial facilities. They're not served by the traditional energy management systems. Nor are they served by the utilities, who focus on large commercial and industrial customers and the residential market. These under-served commercial facilities, such as restaurant and specialty retail chains, represent a huge market." Convinced an interesting opportunity lurked, Martin jumped in. He knew hardware posed challenges, but he felt he was prepared for them. 
As noted in the Stellar Computer introduction to this theme, hardware companies sell physical atoms as contrasted with intangible bits of software products. This means hardware companies have different economics and cost structures than software companies. The design process is more lengthy, redesigns are harder, supply chains are more complex, inventory costs money and the sales cycle can be longer. As a result, hardware companies have narrower margins which leave less room for error in their business plans. 
Investors can be very skittish around hardware companies, and that fear makes these types of businesses harder to finance. Martin said, "A large number of traditional investors wouldn't even look at a company selling hardware. I think that's a mistake. Hardware is not intrinsically bad. When artfully integrated with software, it can make for an incredible business with long term staying power. Look at the iPhone. When it was launched it was basically hardware – but it included much more sophisticated software than previous mobile phones. And that turned into a pretty good business. Yet, the fear of hardware persists among many venture investors."
Unlike naïve hardware founders, Martin understood where the trouble spots lurked. He was prepared to make a go of it. With this startup, he figured, it could be different. Martin put up some seed money. He raised an additional chunk from his angel colleagues and re-launched the company. 
__________________________
The challenge he faced day one was the need to completely redesign the product. The original designers created it with the needs of residential customers in mind. The needs of commercial facilities were more complex. This design issue ran right through the very core of the product. The founders of the company had embedded their somewhat limited communications module directly into their monitoring system product. This design was a dead end for commercial customers. To serve the needs of this new user base they were going to need a more powerful communications module that could talk to many different kinds of devices and support diverse protocols.
This required a complete redesign. With hardware re-engineering, once you start to make changes, they flow through everything right down to the circuit board. The company had to use its early money and a lot of time to reengineer the product before they could even begin to show it to commercial customers.  
This was not unusual. Hardware startups typically need to consume more investor capital on faith before they receive any commercial validation or revenue to reassure investors. And the costly cycle can repeat every time the product changes to support new market demands. Powerhouse Dynamics evolved continuously. Of course, it was not just the hardware requirements that were different. Commercial customers with multiple facilities and different motivations than consumers also needed different software.
Based on his extensive experience working with utilities and the smart grid, Martin's early vision for the commercial product was that it needed to focus on the equipment, including the monitoring of equipment health. Energy monitoring was key functionality that could lead to bottom line savings, but was not necessarily the most compelling use case. Over time the product would need to expand to perform additional functions.
"Energy usage is important," Martin said, "and this was the cost saving rationale that got us in the door. But if you're a restaurant and your walk-in freezer goes down, you've got a major problem. If you're a retailer in Dallas in August and your HVAC goes down, you've got a major problem." And monitoring only gets you so far in terms of energy savings. Customers want a "set it and forget it" experience, so the ability to control and monitor equipment – and not just HVAC equipment – is very important. As the company continued to expand its customer base into food and retail, they were pulled into supporting additional functionality. Martin continued, "Of the many ways of addressing food safety, food quality, and food waste, virtually all of it is related to the equipment. If the freezer is running too warm to prevent spoilage, you've got a problem. And over time, we expanded from monitoring and controls into a full IoT (internet of things) platform. We eventually integrated with ovens, fryers, dishwashers, hot storage cabinets, and ice machines. We needed to know everything going on with that equipment in real time so we could spot the markers of failure before they happened. Our product slowly turned into a comprehensive energy and food safety package. We often referred to it as a way to enable the Smart Connected Enterprise."
__________________________
Each time the scope of functionality increased, it required a re-engineering of the product. In some cases, the changes were mere software tweaks. But the needs of the customer sometimes exceeded the capabilities of the underlying hardware, requiring the replacement of some components. When one component needs replacing, many knock-on effects flow downstream. Circuit boards are redesigned, parts moved around, and cases are resized. Before you can test anything, you need to design and engineer everything, research, locate and acquire test parts, and hand build a testing prototype. All this takes time and money.
This cycle is complicated by the constant pressure to lower per-part cost. One of the challenges with hardware is that every redesign is a mandate to reduce costs of the system to achieve more profit. With field experience, the priority shifts from basic reliability to finding cheaper parts and simpler designs to reduce cost.
Every redesign introduces new variables and new points of potential failure. For example, at one point during a redesign of the Powerhouse gateway module, they realized they could save a little money per unit by switching to a smaller, less expensive power supply. Martin said, "We went from a five-volt to a three-volt power supply. Turned out that was a huge mistake. Yes, it saved a tiny bit of money, but it simply wasn't powerful enough. It created customer issues with the transmitting range to and from wired sensors. You learn some things as you go when you're trying to be more efficient. It doesn't always work."
Powerhouse Dynamics was not immune to supply chain issues either. As a small company, working with a small volume contract manufacturer, they often did not have the clout to get high demand parts. Recalling the challenges, Martin said, "Volume makes a big difference. At times, demand for electronic parts was so high that, unless you were buying in huge volumes, you couldn't even get some parts. And so we had huge delays in the supply chain which wreaked havoc on production. And then we often ended up paying much higher prices to build our product."
These higher costs hurt margins further and aggravated the already difficult effects of having to raise enough money to finance inventory. Martin said, "Financing inventory always had an impact on our business. At any point in time our inventory was more than half a million dollars, and inventory needs to be paid for in advance, in cash. Our biggest market, restaurants, for whatever reason, do not pay on a timely basis. So, we had to put up cash in advance and then wait for customers to pay us for the product." Unlike software, where subsequent copies of the product are instant and free, physical inventory needs to be manufactured, stockpiled, and paid for in advance. This is the fundamental difference between selling atoms versus bits.
Despite best efforts, not all of the inventory could always be turned back into cash. Describing the situation, Martin said, "We always had a sophisticated sales forecasting model that projected how much we'd need by component. But sometimes the sales don't come in or there's a shift in customer priorities. So, for example, at one point we were left with a lot of energy monitors sitting in inventory."
The selling process itself can also present challenges. After a major portion of his career dealing with utilities, Martin was shocked by how restaurants preferred to purchase. His previous utility customers were very hesitant to make capitalized expenditures to buy hardware. But they would happily pay recurring fees. In contrast, restaurant chains strongly preferred to capitalize the cost of both hardware and software. Martin said, "Restaurant margins are so thin that they are just allergic to recurring fees. They would recoil in horror. 'You want to charge me $20 a month? Are you crazy?' Then after work they go home and watch their Netflix subscription. I had to shake my head. We eventually got around this issue by bundling a prepaid two-year license fee up front as part of the initial cost."
Restaurants were also challenging because of their insistence on unnecessary trial pilots to test the product. Martin recalls being frustrated. "I assumed they would make money-saving decisions quickly and decisively. To my great disappointment, I discovered they take just as long as utilities to commit. They'd insist on these pilots, even when there was absolutely no reason to. Corporate headquarters would do a pilot on behalf of all their franchisees, and they'd tell their franchisees, 'You don't have to pilot this. We have tested it and it works great.' And all the franchisees invariably say, 'Oh, but my store is different' when they're not in the least bit different. Same franchisor, same equipment, same store layout, less than 100 miles away. So, here I was excited at the prospect of working with real business people. You know the old saying, be careful what you wish for."
__________________________
Over the years Powerhouse managed to adapt to the quirks of the industry verticals they served. The company raised investor money multiple times. They insisted on paid pilots with customers regardless of the push back. They occasionally resorted to purchase order financing to overcome restaurants' slow payment practices. They adapted their product to interconnect and control more and more types of equipment. They structured their license fees to upfront payments rather than ongoing subscriptions. And they got better at forecasting sales. 
By the time they were acquired, they managed to build a rapidly growing multi-million dollar business. But it took longer than expected. And they never escaped the atmospheric drag effects of being in hardware. Because of slower than expected growth, small topline revenue numbers, and lack of profitability, the company ended up being acquired for a lower revenue multiple than they had been expecting. It was a successful exit in one sense, but definitely not a major win for the investors. 
Powerhouse Dynamics was acquired by a multi-billion-dollar conglomerate with nearly 100 subsidiaries and a very small central management team. It was a strategic acquisition to leverage Powerhouse's IoT platform for many of the sister companies.  
Martin continues to run the company with almost full autonomy. He likes the acquiring team very much. He is able to continue developing his product and serving his customers. They are actively integrating the platform with the products of peer business units which are helping to generate business for Powerhouse. But as good as his situation is, neither Martin nor his investors expected it to turn out quite this way. 
When he founded the company he was an experienced entrepreneur. He was going to beat the odds associated with hardware startups. But the realities of hardware overpowered best intentions. Design process challenges, manufacturing, inventory, financing, slow sales cycles, slow payment - there was just too much financial drag to reach escape velocity. If his investors were not skittish about hardware going in, most of them probably are a bit more cautious now. 
Interested in reading more stories about key startup themes and lessons learned? View the entire collection here in The Seraf Compass or purchase the book on Amazon in paperback or Kindle format.