This article is the third chapter of The Entrepreneur's Journey, a collection of stories about startup companies and the entrepreneurs who built them. To continue reading about key startup themes and lessons learned, check out the entire series here in The Seraf Compass, or purchase the book on Amazon in paperback or Kindle format.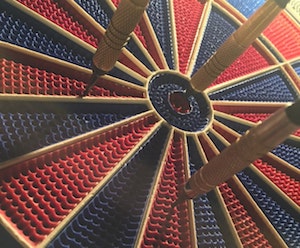 In the fall of 1998, Joe Mandato led an MBA class through a case study. The case was on a medical device company Joe grew to a successful exit using a novel go-to-market strategy. The lecture was in Professor Thomas Hellman's Entrepreneurial Management class at Stanford University's Graduate School of Business (GSB), located on the east side of Stanford's beautiful, palm studded campus. The Spanish missionary style buildings of the business school were teeming that day with some of the best and brightest business students from all over the world.
Lecturing from the well-lit center of the deep auditorium-style classroom, Joe looked out on a gathering of sharp, young future business leaders. As is customary in business schools with guest lecturers, each student had their name displayed on a large folded card in front of them. The name cards reflected the broad gender and cultural diversity long a part of the culture that is the Stanford GSB. 
Stanford was one of the few elite institutions with an early appreciation of the importance of entrepreneurship. It was no coincidence that experienced industry vets like Joe ended up in Stanford's classrooms to talk about real world case studies. In the years immediately following World War II, Stanford's provost, well known inventor Frederick Terman, staked the University's future on the development of new technologies. The expectation was these technologies might lead to new local companies and a thriving local ecosystem. Terman's vision ultimately manifested itself, years later, in what is today Silicon Valley.
After Joe's lecture, two second year MBA students, Zia Chishti and Kelsey Worth, approached Joe to ask his opinion of an idea they were developing. It involved a radically different approach to orthodontics. Like most entrepreneurs, they believed they had a disruptive idea, which, if successful, could turn a large industry upside down. It was born of the founders' own direct experience wearing metal braces. They remembered the pain of that experience and the unsightly look of metal braces, especially as young adults. The students proposed to replace metal braces with clear plastic aligners. Their company was to be named Invisalign.
Joe immediately saw the potential of their idea. He said, "Having had experience in this industry, I recognized the potential impact of their approach. I also knew reducing it to practice would be a significant technical and professional challenge."       
Zia and Kelsey, while bright and ambitious, had no direct experience in orthodontics or in building a company. In addition to the many traditional company-building challenges, their product concept was going to require mastery of computer modeling, materials science, and complex manufacturing. Zia spent the first part of his brief career in consulting and investment banking. He had limited direct experience with the startup world, but he brought an optimist's enthusiasm to the challenge.
Kelsey, a bright and accomplished environmentalist turned investment banker, was more of a realist and brought a dose of practicality to the founding team. Joe Breeland, Invisalign's first VP of Sales, said, "Kelsey was a stabilizing force and her voice was one of reason, which was critical to the company at times."  
Recalling those days, Kelsey said "I am just not a traditionalist. My father was always running for re-election, so I went to bed at night not knowing if he would have a job the next day.  And yet, life went on. Entering Stanford I had no further interest in investment banking or consulting. I wanted something different, something exciting. Zia was a great salesperson and smart. He had the technical savvy to pull this off and it made so much sense. I was naïve, but I had the awful experience of metal braces. There had to be a better way. I believed this was going to be a big opportunity." 
_________________
Given the breadth and depth of the challenge to get the company off the ground, Kelsey and Zia knew they needed a lot of help. Kelsey said "The challenge was going from a scan to an actual device. Building the product, it had never been done before. Initially, the cost of building the product was outrageous and not sustainable if this was to be a successful business. Complicating things, the builder of the stereo lithography equipment we used went out of business in the middle of product development. So we bought his remaining inventory of seven machines."  
The technical issues around materials science, the biomechanics of moving teeth, and sophisticated manufacturing were all challenging. From a business perspective, they needed help on how best to position the product, launch it, and drive adoption in this competitive market. They were going to need to raise substantial capital to execute their plan. 
Joe Mandato became involved with Invisalign as an advisor, board member and investor. His primary question centered around whether the market would accept this disruptive new technology. As Joe considered the company's challenges, he said, "The biggest question for me was, could this team disrupt the large, conservative orthodontics market by addressing shortfalls of current practice and existing products?"  Was this product solving a problem traditional products could not? How likely was it that customers would care about what these young founders were doing?
All entrepreneurs face a significant natural resistance relating to market acceptance and product-market fit when introducing a new product. This is especially true with a clinician-driven, go-to-market strategy, where there are multiple natural barriers to the adoption of innovation. First, a company introducing a new product needs to have data from laboratory testing and real patients that show the new product is safe and effective. To provide definitive answers to these questions takes time and money.
A second barrier is asking a clinician, i.e. an orthodontist, to change how she does her job, a skill and experience-based occupation requiring years of specialized education and training. New technology can involve uncomfortable changes in practice, and overcoming one of the most formidable types of inertia, the ingrained habit.  If it can be shown there are clear benefits for the practice and patients, clinicians will eventually change their thinking. Showing clear benefits takes time and money. Fred Moll, the father of surgical robotics, said, "Market receptivity for disruptive technology evolves from abject horror to swift denunciation followed by begrudging acceptance." And so it was for Invisalign.
Medical products must also pass regulatory scrutiny. They must meet the high standards for safety and effectiveness set by the Food and Drug Administration. This regulatory process can be long and expensive.
However, a critical challenge facing every entrepreneur is finding the right customers. The metal brace technology of today was essentially the same as when it was first popularized in the early 1900s. The Invisalign product is a radically new approach. The product is a clear, plastic tooth aligner which is slipped over the upper or lower teeth to put gentle straightening pressure on teeth. It addressed a number of perceived shortfalls in the products produced by the manufacturers of traditional metal braces, including 3M, Sybron and Dentsply. 
Invisalign's devices were practically invisible, a potential game changer in terms of aesthetics. Metal braces are painful and perceived by most as unattractive. Both Zia and Kelsey experienced this personally. Their product was designed to be more comfortable and take less time to straighten teeth. Patients could remove the device to brush their teeth for better hygiene.  
But clear benefits for the end user customer are not enough. The product also had to work for the orthodontists. There was reason for hope. New products give early adopting clinicians a chance to be seen as technology-savvy practitioners. With the hope of shorter treatment times, the clinicians could grow their patient base, complete more cases, and make more money. And clinicians could expand their market to include people who needed orthodontics but would not wear metal braces.  
_________________
To help drive market receptivity and to find the right customers, the company looked to early adopter clinicians willing to overlook product shortcomings to be among the first to try something new and exciting. By successfully targeting early adopters, traditionally estimated to be approximately 3% of most markets, a company can build credibility and revenues. Testing product-market fit was a critical objective when Invisalign approached the early adopter segment. 
Invisalign's first vice president of marketing, Ken Varga, developed test markets in Austin and San Diego. The company needed real data to help them select customers to go after. Unfortunately, the test was too small and the results were inconclusive. Because they did not do a large and systematic test, they did not get the clear cut information they needed.  But they got some hints. Ken said, "The data coming out of that effort demonstrated the easier the case, the higher the potential of a satisfactory outcome."  
Based on the product's potential, combined with the anecdotal feedback, Invisalign was able to raise enough capital to refine the product and build a team which included an experienced sales force.  In addition to a lack of understanding about which customers to target, the company did not have adequate product efficacy data. At best, they had a somewhat informed hunch the right customers were patients with simple teeth crowding cases and early adopter clinicians looking to differentiate their practice. Leadership, however, pushed to launch the product aggressively to a broad market. To drive market awareness and stimulate consumer and clinician demand, the company launched an expensive direct-to-consumer (DTC) marketing strategy. 
It was a disaster. The DTC strategy was the wrong strategy at the wrong time. The campaign did not focus on the clinician, a serious error. It alienated a large portion of the orthodontist community by appealing directly to patients. And, instead of cost effectively testing a well-defined segment in a regional market, the company reached out to a national audience at great expense. This extravagant approach, across a  broad spectrum of poorly targeted media, delivered the wrong message to the wrong customers. 
Joe Breeland, an experienced sales leader brought in to execute the sales strategy, cringes when recalling those early days. "If you happened to be watching your favorite cable channel after midnight," he said, "you were liable to see an Invisalign ad." Clinician reaction was universally negative. One told Jeff Tunnell, a regional sales leader to "Pack up your circus tent and get out of town." 
Although it was still early in the product development process, the product performance issues were primarily due to poor patient selection. There was nothing fundamentally wrong with the product, but the early adopter clinicians used it across a broad range of patients. Disruptive products initially do not perform optimally in a broad market. Until its technology matured, Invisalign needed to target a subset of potential customers where they would have a higher probability of initial success. The test market was too small, the results unclear.  It was clear however, clinician and patient expectations were not met.
After the botched launch and costly market learnings, the company eventually had enough information to identify its best  initial target market.  Joe Breeland said "We began to suspect the target market was made up of young professional women with a modest malocclusion."  In plain terms, he continued, "It worked best for patients needing a modest correction. It was not data driven thinking, it was common sense. Until we optimized the product, we had to lower the market's expectations and our own. We also needed to re-establish credibility with our orthodontists." 
The limited product effectiveness and profligate spending on poorly designed marketing tactics put a serious strain on the company. Kelsey said, "We didn't know how to watch our nickels and dimes. We spent money fast and not always wisely. Management was not as efficient as it needed to be, and often, there was no clear definition of who did what." The poor operating results spoke for themselves. The company consistently missed projections and faced the threat of running out of cash. They needed to change.
_________________
In 2002, the board of directors began a search to find a replacement for the company's CEO and co-founder. Given the complexity of positioning a hybrid clinical and consumer product successfully, the board was looking for a mature, sophisticated CEO with solid marketing chops. The search resulted in the appointment of Tom Prescott, a highly experienced executive, as CEO. Tom took several immediate steps to get the company back on its feet and to begin to accelerate its growth. First, he redefined and refocused his marketing efforts exclusively on the narrow segment which could benefit the most from the Invisalign product. Second, he invested heavily to improve product performance, thereby broadening its market.  
Tom brought focus and operational competence to the entire team. He cut the cash burn to a manageable level. Tom said, "When I arrived at Invisalign, I found great promise in the opportunity, great people, groundbreaking technology, and an orthodontic market ripe for disruption by a clear aligner therapy. All in, there were many positives. Yet, the company lacked a culture which placed the customer and patient at the center of the strategy." 
Prescott had to find and serve the people who cared about his product. The customer, he emphasized, was the clinician. He backed off the direct-to-consumer strategy. The Invisalign team implemented a plan to enhance the customer experience and develop closer relationships with a targeted and pre-qualified group of clinicians. To get to them and grab their attention, he said, "The team needed to refine and redirect the demand creation marketing strategy and programs." 
Tom asked his team two key questions. "Do our clinician customers really care about our product? Does it allow orthodontists to do something they could not do before? Yes! Using Invisalign, they can offer a therapy having much higher patient satisfaction with a core segment of customers who care primarily about better aesthetics." Further, the Invisalign product could provide a faster treatment regimen, less discomfort, and better hygiene for the patient. 
Clinicians began to integrate Invisalign into their practice and use it for an expanding number of indications. The database of prescriptions grew, allowing the product to be refined and improved. This led to greater patient satisfaction, clinician confidence and an expanding market. The product's efficacy expanded beyond simple cases to moderate and certain complex cases. Invisalign finally found its way, and clinicians began to accelerate adoption of their technology.
Finding and properly targeting those early customer segments was the key to unlocking this large opportunity. With increased volume, product costs came under control and margins increased. With the improved targeting and marketing efficiency, the cost per lead went down because it was more relevant and therefore cost effective for the customers they reached. 
_________________
Fast forward to today. Tom has retired, but not before growing the company's revenues to nearly $750 million. Knowing how to find customers who care meant the sky was the limit. The company has shipped more than one billion devices, seen annual revenues grow to $2 billion and maintains a large $23 billion market capitalization.  
The stark contrast between Invisalign's early struggles and ultimate success stand as a powerful lesson on the importance of segmenting the market to find the right customers for your product. Until Invisalign figured out what it had, and for whom it was most relevant, it was a cash-consuming disaster-in-the-making. An unlimited marketing budget cannot help you if you are talking to the wrong people. But once you figure out your target market, the product begins to sell, sales and marketing efficiency improves, revenue grows, and the business succeeds.
Interested in reading more stories about key startup themes and lessons learned? View the entire collection here in The Seraf Compass or purchase the book on Amazon in paperback or Kindle format.