Note: This article is the sixth in a series of interviews highlighting the work of interesting female investors.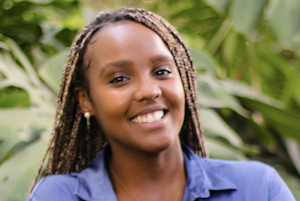 As a General Partner and Co-Founder at FrontEnd Ventures in Nairobi Kenya, Njeri Muhia is focused on working with diverse founding teams that are passionate about impacting their industry value chains and addressing challenges that exist in their communities. Prior to co-founding FrontEnd, Njeri was an international investment consultant at ZAO Invest in London and worked as a credit portfolio manager at top-tier investment bank Barclays, also in London.
Njeri, thank you for participating. How long have you been investing in early stage companies and how did you first get started? 
I have been investing directly for two years, initially as a Venture Partner and now as a General Partner. Prior to launching FrontEnd I was indirectly participating in the space as an investment consultant for 3 years.
What made you first want to do this work? 
My entry into the early-stage African investment ecosystem was quite unplanned and unexpected. Initially, I was working within the financial service industry, based in London and was keen to explore investment opportunities  After living abroad for a few years I realized that there was little to no visibility on the existing early stage East-African ventures where members of the East-African diaspora could invest as angels. I became keen to explore the space and see if I could do anything about that.  I decided to start working as an independent investment consultant, supporting East African start-ups with investment readiness and connecting them to a broader investor network. Concurrently, I worked with international early-stage investors across the globe, supporting with deal origination & structuring. It was in this capacity that I developed unique perspective on the pain-points and opportunities that exist within the early-stage market, as well as understand the critical need for more representation of under-represented founders. My transition into my work as a direct investor was inspired by the fact that I sought to participate in the diversification of funders within the African VC ecosystem. In this ecosystem, local and female partners have an important catalytic role to play when it comes to identifying, supporting and investing in diverse ventures across the continent.
Looking ahead in early stage investing, what are you most excited about? What keeps you up at night? 
I am most excited about seeing more inclusivity and representation when it comes to founder teams. This is in several forms, be it gender, age, location, ability and more. What we are coming to learn more clearly is that VC is essentially a local business. When I say this, I do not only mean operationally, such as in the ability to source, evaluate and fund, but more so from an opportunity perspective—founding teams that have deep personal experience in the industry, consumer segments, and demographics of their region have the capacity to create radical innovations for the continent. Obviously, there is no real need to speak on the importance of diversity (I think the drumbeat to this song is well known) but what I am excited about is seeing this in practice. 
What keeps me up at night? Well, the positive perception of the African VC ecosystem is vulnerable. On the whole we already have a higher perceived risk coupled with more perceived execution challenges and questions about the upside potential of our continent's ventures. What we don't need is having this more inflated when we are still at a nascent stage of our ecosystem's growth and development.
Do you have an investing thesis or a focus on any particular type of founder, business model or industry? Are there particular kinds of startup companies you steer away from? 
At FrontEnd we are focused on supporting tech-based start-ups in Kenya, particularly interested in working with local founders that are passionate and impact-driven. From a sector perspective, we are currently agnostic but pay special attention to ventures within the essential economy –  such as healthcare, agriculture, education and financial services.  
In regards to startups we steer away from, we generally avoid ideas that only scale from aggressive acquisition strategies with no underlying value proposition for users. As previously mentioned, impact is important to us, and so we need to believe in the innovation's ability to create opportunity within their value chains and not just solely make a return.
Do you consider the type of investing you do to be "impact investing"?
Yes we do. We evaluate our deals through an impact lens with a particular filter for job creation and increasing access to affordable basic services. However, we do maintain a certain level of flexibility and discretion as to how impact is evaluated as opposed to working within a strict impact framework.
Where does your best deal flow come from?
Our best deal flow probably comes from our ecosystem partners and relationships. We have deep roots and connections that go beyond traditional incubators and accelerators—we have had great deals come from tax consultants, lawyers, development agencies and more. A big part of this is that we are committed to educating people as much as possible on the asset class, as well as creating spaces for networking, collaboration and community building through our series of ecosystem events.
How do you know a great entrepreneur when you see one?
I think it's a couple of things for me. First is marriage to the problem and not the solution.  I look for entrepreneurs who are committed to solving that challenge or innovating within that particular value chain or industry. We love founders that are constantly learning from their users/customers, iterate on the product, and have a willingness to pivot when necessary. Second and complementary to the first, is lateral thinking and agility. This is especially needed in the early-stage space, where instability, change, and new opportunities are constantly revealing themselves. 
Can I ask you to speculate on what makes you good at what you do? Is there a particular experience or set of experiences in your history that you feel especially helped prepare you to be an early-stage investor?
I've had the serendipitous opportunity to look at this space from very different angles—as an outsider, a consultant, a founder representative, a technical assistance provider, and now as the funder myself. It's because of this cross-sectional exposure that I developed an 'ecosystem' approach to the investment deal cycle, creating tangible relationships with technical assistance firms, incubators, accelerators, and digital platforms to accelerate and streamline the end-to-end investment process & market engagement. However, beyond this, I am directly part of the representation conversation—as a young, female, and locally-based emerging manager, I have felt and continue to experience the difficulty in navigating this space on multiple fronts, and I am deeply committed to leveraging my intersectionality to shake up the space.
Do you think your gender influences how you approach investing? If so, can you tell us a bit about how?
If anything at all, maybe it means I have more focus and interrogation on the founder's rationale, intention, vision and on due diligence around "integrity." I understand that successful early stage investments rely on a strong investor-founder relationship, and aligning on that in the early days is important to me. 
Are there some portfolio companies you are especially proud to be working with or simply would like to highlight?
We have been building a formidable pipeline of dynamic start-ups.  One interesting one is solving for transport & logistics and fintech for the motorcycle 'boda boda' industry. Another provides a marketplace solution solving for the billion dollar second hand clothing market. Plus we are working on others. Once we do eventually finalize these investments, we will be sure to shout them out.
If you could give entrepreneurs one piece of advice about working with you, what would it be?
Be authentic, care for what you do, and who works for you; have energy and grit. Be very clear on what you want to work on and your "why".
Stay tuned for additional interviews as The Seraf Compass continues to profile interesting women investors, impact investors, small funds, and family offices.