Note: This article is the fourth in a series of interviews highlighting the work of interesting female investors.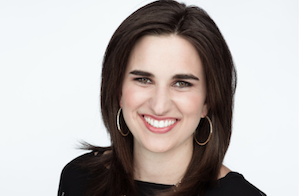 Jenna Anita Nicholas is Head of One Planet VC, which invests primarily in innovative, high growth companies that aspire to the concept of 'Innovation x Intention,' to foster the powerful combination of business success and positive social impact. Jenna is also the CEO of Impact Experience which is focused on addressing the very critical (and timely) issues of structural racism and incorporates a variety of powerful tools to tackle prejudice by confronting and engaging with the historical and ongoing realities of inequality and racial bias.
Jenna, thank you for participating. How long have you been investing in early stage companies and how did you first get started? Looking ahead in early stage investing, what are you most excited about? What keeps you up at night? 
I have been investing in early stage companies since the beginning of my career ten years ago at the Calvert Funds where I worked with Wayne Silby to invest into impact oriented companies. I am grateful to have had the opportunity from the beginning of my career to align my values with my work and investments. 
Currently, I lead investments for One Planet VC where we invest in early stage companies looking at contributing towards the betterment of the world. 
It has been exciting to see more and more investors who are looking at the social and environmental impact of their investments, as well as incorporating a focus on diversity, equity and inclusion within their investment decision making processes. Particularly with the intergenerational wealth transfer that is taking place, I am seeing more and more interest from the next generation in ensuring that there is an alignment between investments and values. 
In terms of what keeps me up at night, my fear is that a commitment to diversity, equity, inclusion and impact may not be sustained. I hear some people talk about DEI and impact as if it is a trend that could come and go, rather than a long term, systematic and strategic focus that we will never be fully complete on.
Do you have an investing thesis or a focus on any particular type of founder, business model or industry? Are there particular kinds of startup companies you steer away from? 
We invest in a broad range of businesses but all into businesses that are looking at contributing towards the betterment of the world. Some of the sectors include: healthcare, future of mobility, education technology, renewable energy and financial inclusion. We have a focus on ensuring that at least 60% of our portfolio is focused on investing into women and people of color run businesses. We tend to steer away from companies where the goal is to purely maximize profits and not take into consideration any social and environmental benefits. 
Where does your best deal flow come from? 
We have a robust community of co-investors and we are actively referring opportunities to each other all of the time. We also receive great opportunities and introductions from our portfolio companies. In addition, we reach out to companies in sectors that are of interest to us. I am also a Vice President of Stanford Angels and Entrepreneurs where some deal flow also comes through.
How do you know a great entrepreneur when you see one? 
Grit, determination and humility are certainly some of the core qualities that we are often looking at in the entrepreneurs that we invest in. It is also super helpful if they have a background of entrepreneurship and leading companies. 
Can I ask you to speculate on what makes you good at what you do? Is there a particular experience or set of experiences in your history that you feel especially helped prepare you to be an early stage investor?
I am deeply invested in people and in their lives and journeys. I view investor-investee relationships beyond merely financial, transactional relationships, but rather really look at opportunities to support people in their growth and development as human beings. My background involves founding and leading Impact Experience (www.impact-experience.com) which is focused on building bridges between investors, entrepreneurs and communities that have been overlooked and underestimated. These principles are infused into all that I do. I am also an active member of the Baha'i Faith which is an inspiration for all that I do. In our work at One Planet VC, we actively look at integrating Baha'i principles into our investment decision making processes, as well as our engagement with the companies that we invest in. This includes principles such as consultation, unity in diversity and the equality of men and women. 
If you could give entrepreneurs one piece of advice about working with you, what would it be?
It is incredibly helpful to integrate a focus on diversity, equity and inclusion from the beginning of one's process of building a business. It is much more difficult to integrate a focus on these dimensions later on in the lifecycle of building a company. The first few hires that one makes sets the culture of a company so it is important to be intentional from the beginning. 
Are there some portfolio companies you are especially proud to be working with or simply would like to highlight?
There are a number of inspiring entrepreneurs in our portfolio. For example, Ami Kumordzie, CEO of Sika Health which gives people the key to unlock health wallets through a seamless payment integration; The Beans, led by Melissa Pancoast which provides a personalized cash flow plan to support people as their finances grow; LifeDNA led by Cyril Moukarzel which offers DNA-personalized health and wellness products and Localized, led by Ronit Avni which unlocks educated talent for global companies. For the full list of our companies, please see: www.oneplanetvc.com.
What's the greatest advice you received about early stage investing?
Fall in love with teams and not just ideas. It is likely that an entrepreneur's initial ideas will shift but if the entrepreneur and the team that they have built around them has high integrity, resourcefulness and creativity then they will find a way to identify opportunities for product / market fit and have a higher likelihood of building successful businesses. 
What early stage investing blogs/thought leaders/sources do you follow?
I love the Stanford Social Innovation Review. As a graduate of Stanford undergrad and Stanford Business School, I have not only worked at the Stanford Social Innovation Review but also after graduating have used it throughout my career as a resource to understand how thought leaders shape the intersection between social entrepreneurship, impact investing and policy. In fact, when I taught a course at Tsinghua School of Economics and Management in Beijing on corporate social responsibility and impact investing, we used a number of articles and resources from the Stanford Social Innovation Review as part of our course. We also explored how thought leadership pieces from the magazine applied to the new generation of social entrepreneurial leaders across China. 
Do you have set expectations for founders on how they should lead their teams and communicate with their investors?
It is important for entrepreneurs to share both the good and the bad with investors. As an investor, I am not just an investor but also a partner in working to build and scale companies alongside the entrepreneurs. As an example, within One Planet Group, in addition to capital, we provide core expertise related to marketing, branding, lead generation and SEM to the companies that we invest in. 
Stay tuned for additional interviews as The Seraf Compass continues to profile interesting women investors, impact investors, small funds, and family offices.