Note: This article is the second in a series of interviews highlighting the work of interesting small funds.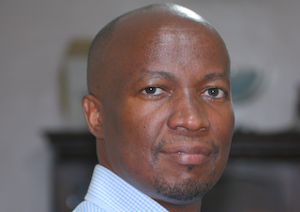 Steven Wamathai is the General Partner and Co-Founder of FrontEnd Ventures, a Kenya-focused venture capital fund committed to supporting local and diverse founder teams that are passionate about innovating and changing their value chains. Steven is also an entrepreneur at Evernai Capital and was previously fund manager at GenAfrica. He is an experienced director with a demonstrated history of working in the investment management industry. He is skilled in Asset Management, Valuation, Financial Analysis, Equity Research, and Alternative Investments, and is also a CFA Charterholder. Steven is fascinated by tech and can always be found traveling between the Kenyan Coast and the lakes of the Rift Valley.
Steven, thank you for participating. When was the fund established, and is this the first fund you have managed? 
Yes, this is our first VC fund, we officially started structuring in 2020, and are now in the process of achieving our 1st close target by year end 2021. 
Do you have a thesis or focus on any particular type of founder, company or industry? Are there particular types of startup companies you steer away from? 
At FrontEnd we are focused on supporting tech-based start-ups in Kenya, and are particularly interested in working with local founders who are passionate and impact-driven. From a sector perspective, we are currently agnostic but pay special attention to ventures within the essential economy –  such as healthcare, agriculture, education and financial services.  
In regards to startups we steer away from, we generally avoid ideas that only scale from aggressive acquisition strategies with no underlying value proposition for users. As previously mentioned, impact is important to us, and so we need to believe in the innovation's ability to create opportunity within their value chains and not just solely make a return.
Tell me a little bit about your fund size, stages you focus on, and your typical check sizes when investing in early stage companies? 
We are targeting a $5M fund, focusing on the pre-seed to seed space. We provide initial dollars, up to a $100K initial check, that allows the founders to bring their ideas to life and prime them for growth capital. For the ventures within our portfolio that show promise, we have a follow-on reserve, allowing us to participate in their continued growth.
What would you say are the main things that differentiate you from other similarly-sized VC funds?
For one, there are very few early stage VCs based in Kenya focusing specifically on Kenyan entrepreneurs. Our team is fully local, with extensive networks in the ecosystem; both start-up and funding. We've grown up here, and have a first-hand appreciation of the day-to-day challenges that communities and businesses alike face, of which our target start-ups are looking to solve.
Tell me a bit about yourself; what makes you good at what you do? Is there a particular experience or set of experiences in your personal history that you feel especially helped prepare you to be an investor?
I've managed institutional money investing in both public and private markets for over ten years. I was part of the owner-staff team at GenAfrica (institutional fund manager) and built the business to achieving +32X exit. The experience building the business from a $100M AUM business to a $1.6 Billion business in 10 years has given me critical insights to help fund and scale budding innovative businesses.
Tell me a little bit about your LPs – for example, are they individuals, family offices, institutions, or a mix of both?
Given our thesis, the fund will crowd in local capital from high net worth individuals (HNWIs), Institutional funds and family offices. One notable mention about our current LP population is that we have a significant representation of Kenyan locals within the mix—a previously underrepresented cohort in the current African VC ecosystem, so we are proud to be able to drive more representation and inclusion throughout our fund structure. 
Do you lead rounds or do you tend to follow other leads? Do you have a preference and, if so, why? What's your view on taking a board seat?
For our first checks, we do anticipate being the lead investor in the round, the reason being this is where we believe early stage founders require strategic support to start unlocking scale, and we want to be the partner that can be integral to those decisions. From this rationale, it becomes clear that we are comfortable in taking a board seat in order to be deeply embedded at this pivotal time.  However, this is not set in stone, we are also comfortable following other leads where we see a strong and open dynamic between the existing investors and founders.
Would you consider your fund an especially "active" or "value-added" investor, and if so, what are some of the ways you like to get involved and help your portfolio companies succeed?
At the heart of our fund strategy is value-addition. As we are targeting start-ups within the pre-seed and seed stage, they usually have founding teams that have complementary skill sets to bring a product to market, but are not fully established—usually requiring strategic and networking support around business development, market entry, growth hacking and more—we believe we can support in that gap, particularly leveraging our local context and knowledge within the Kenyan market. 
Are there some portfolio companies you are especially proud to be working with or simply would like to highlight?
As we sprint towards our first close, we have been building a formidable pipeline of dynamic start-ups, some of which are solving for increasing efficiency within remittance market, crypto integration with local payment channels, transport & logistics supporting nano-commerce and so much more. Once we do eventually close, we will definitely share more!
What are the most important ways you would say the investing world changed during your time as an early stage investor? Looking ahead in early stage investing, what are you most excited about? What keeps you up at night?
We've mostly been fund forming and getting to close. Though, in a very short span of time the interest in tech based companies in Africa has really grown; and with it the attendant valuation uplifts. Many VC firms with no presence in Africa have led rounds (seed to series B) and for some of them it was their first check to cut for an African based business. What keeps me up at night? The ecosystem is primed to take off and will be a key employer in the continent in the next decade; I'd hate to see this momentum stifled by ill-advised regulatory overreach before takeoff and/or a global tightening cycle impacting flows.
If you could give entrepreneurs one piece of advice about working with you or your fund, what would it be?
Be authentic, care for what you do and who works for you; have energy and grit. Be very clear on what you want to work on; is it to launch something that returns you a 100X or is it something that changes the world in a meaningful way? Focus on something you are proud of and want to wake up and fight for every day.
Tell us about "The one that got away."
There was this one potential company within the Ed-tech space that was doing some revolutionary work, led by a brilliant founding team with significant traction. We had a stellar relationship with the founders, but timing was our downfall. The team was approached by a large silicon valley based investor that wanted to be sole investor in the round, also promising significant follow-on support in later rounds. It was an offer they couldn't refuse, nor would we expect them to, considering we were yet to achieve our first close target! We are still in touch with the team to this day and wish them the absolute best.
What's the greatest advice you received about early stage investing?
Look for integrity, passion and good listening skills.
What tips would you pass on to someone getting started/raising their first fund/making their first investment?
Be sure you have passion and a stomach for risk for the stage of investing you want to get into. Be aggressive and patient at the same time; it will suck you in but do not neglect taking care of yourself. Collaborate a lot; have a co-founder/partner that shares your vision. Seek support but also offer help as much as you can. Be kind. Most of the world will give you bad advice on how to launch a fund, so if you can, talk to people who have actually launched a fund before; Adeo's VC Lab run by Founder Institute is a great program for first time managers to get started.
What early stage investing blogs/thought leaders/sources do you follow?
Blogwise, there are several sources we love—Baobab Insights is a particular favourite in the space.
What is your biggest challenge running a fund?
Let's talk in 2 years!
Do you have set expectations for founders on how they should lead their teams and communicate with their investors?
All founding teams are different with their own dynamics, there aren't any hard and fast rules on leadership. However, we do look for two inter-related things when it comes to founders and their teams; firstly, the acceptance and openness to be challenged, secondly, the ability to pivot. We are looking for teams that are not married to their solutions, doubling down or escalating commitment to a losing course of action. We want founders that can raise their hands and say, 'who has an idea on how we can do this better?'
What do you see as the key drivers of success when investing and driving returns?
Working with teams that have an idea that has personal, professional and economic resonance (gives them self-drive to push on) whilst having a potentially large market with fantastic economics. Valuation and stakes at entry, though important, are secondary. Access to great teams/ideas with support to enable them to win with customers/users! Great founders drive great ideas to success; my job is to help them to be more ambitious.
What are the top 3 qualities you look for in a startup/start founder?
Passion, open-mindedness, and grit.
Stay tuned for additional interviews as The Seraf Compass continues to profile interesting small funds, impact investors, women investors and family offices.