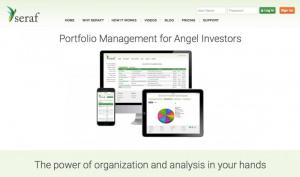 The goal motivating the team behind Seraf is a simple one: we work constantly to provide angel investors with the tools they need to manage and reduce the complexities of their private investment portfolios. In doing so, we seek to bring a new level of professionalism to angel investing. As angels with over ten years experience, we know firsthand how difficult it can be to stay organized and on top of a growing portfolio - your holdings, investor documents, follow-ons, warrants, note maturity dates, tax issues, and myriad other details.
As our first anniversary draws near, your feedback has given us an even better understanding of what angels need to manage their portfolios. This week we launched the first of many product improvements, introducing more time-saving features to help you streamline your seed investing.
For our most recent cycle of product development we focused on three themes: (i) making it easier for new clients to get started quickly (ii) making Seraf as simple and easy to use as possible and (iii) allowing existing clients greater power and speed in managing and interacting with their portfolio on a daily basis.
Your Portfolio at a Glance - New Investor Dashboard
When you log on to Seraf as a subscriber, you'll find a streamlined dashboard giving you a number of quick snapshot views of your portfolio as well as recent transactions, news, reminders for upcoming important dates, and a list of documents to be filed. We will continually add new features to this dashboard to make sure Seraf helps you stay in control of your portfolio.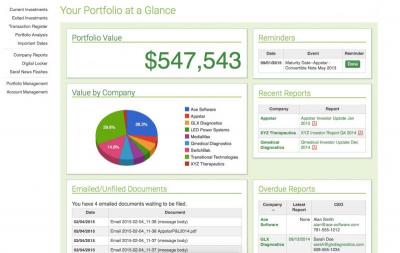 Show & Tell - New Reporting Feature
Want to do more than just tell family and advisors about your angel investments? Now you can show them. Advanced and Professional Portal subscribers can download Excel, Word or CSV files to analyze, print, or share with family members and advisors. Just look for the icons above the Transaction Register, Current Investments tables, and Exited Investments tables.

Trusts, IRAs, LLCs, Oh My! - Setting Up Investment Accounts
For Professional Portal subscribers who invest under multiple accounts, such as a trust, IRA, or LLC, now you can create individual investment accounts within Seraf. To set them up, visit the Account Management section and click on the Add Investment Account button. Once you create them, you can view your portfolio in aggregate, or by individual account.

From Your Inbox To Seraf's - Email Upload Investor Documents
Seraf allows Advanced and Professional Portal subscribers to upload and store investor documents, including diligence notes, share certificates, investor documents, closing binders, etc. You can always add these by going to the Digital Lockersection, but we are very pleased to announce that now you can forward these documents to Seraf directly from your email if you prefer. All it takes is a simple one time visit to the Account Management section of Seraf to create your unique email address for your account, and then any time you need to add a document to Seraf, simply forward it via email. When you log on to Seraf, it will be in your Digital Locker, waiting to be associated with any company or round you like. In just a few clicks you have safely stored it away for future reference.

Looking Down the Road
As excited as we are to bring you these improvements, we are just getting started.  We have a detailed roadmap of powerful new features that we will unveil throughout 2015 and beyond. We've built a lot of momentum, thanks to our early clients, and are thrilled to be on the cutting edge of angel professionalization. So stay tuned and please give us any feedback you have on the product so we can make sure we prioritize your needs.
Other News
We continue to publish our blog, The Seraf Compass, on a weekly basis. We added a Video Collection, highlighting many of our features and how to use them. We will continue to add to this collection over time, so make sure you check back. Those of you who receive the Angel Capital Association newsletter may have noticed that Seraf recently became a Member Recommended Service Provider. We are very excited about this relationship and the opportunities it will bring to grow this business.
Help Wanted
We are having a blast bringing Seraf to its rapidly growing list of clients. But we can always use help. How can you help? Two ways: (i) give us your feedback on the product and (ii) let your investing colleagues know about Seraf so we can grow this community and underwrite the continuous development of powerful new features. When investors hear about Seraf they want to try it, and when they try it they love it. Help us get the word out.  We will extend your current term by one month for every new client you refer!
We think you're going to love all of these new tools and the peace of mind they bring. So what is the cost for all of these amazing features? Visit Pricing to learn more about our three subscription levels. Sign up now and feel good knowing that you are taking control of our portfolio. And with all the time you save, maybe you can finally take up that new hobby!